Review | Take the plunge into the Mealy-Mouthed Sea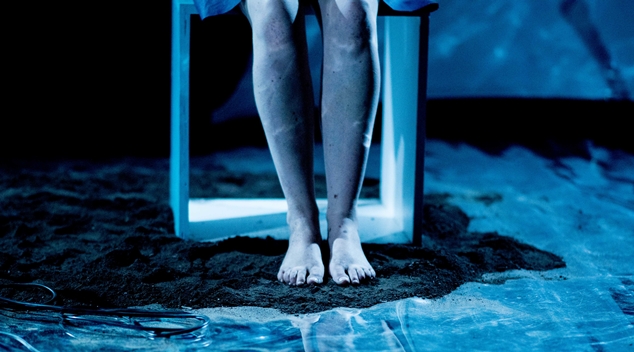 Above The Mealy-Mouthed Sea | The Blue Room Theatre | til Feb 3rd  | ★ ★ ★ ★ 
Some people attend a Fringe show in the hopes of a good laugh. Others invariably seek out Fringe cringe, or shows that are awkward, either through intent or outright inability. Then there are those of us who look for shows that make us feel, but feel like a sucker-punch to the feels makes us feel. Above The Mealy-Mouthed Sea is the latter, a poignant spoken word show with multiple layers, particularly poignant in our current #metoo climate.
Presented by Unholy Mess and starring Jemima Foxtrot, this show is touted (or should that be trouted… there are A LOT of fish references in this work) as 'a woman stands at a microphone… she can't remember the punchline'. And yeah, on the surface, that's what this show is about. But once you dive beneath the crashing waves of poetry and song, you discover there is a dark, abyssal undercurrent present.
This undercurrent is the reason for the intentionally fractured nature of this show. Sometimes, when we repress trauma, the memories surrounding that trauma fracture or rupture, fall out of sequence, magnify or shrink. The unspeakable becomes increasingly harder to speak. In fact, it's easier to distract with humour, a clown's sensibility. But fractures can ripple, distort even the most mundane memories.
This is reflected in this work, beginning with the image of that person cut out of the family photos. Every time Foxtrot draws in close to that absent figure, the show 'falls apart', recoils, bounces off in different directions. It can be very disorientating, but once you realise it's a defence mechanism, you hope Foxtrot conjures bravery enough to face this unidentified leviathan.
And confront she does… eventually. It's the process of reaching this point that is intriguing: Foxtrot melds sea shanties and textural audio accompaniment, creating a maze-like tsunami of discovery, one that draws you in like the Saragossa Sea. And if you're wondering about all the aquatic references in this review, then expect thrice as many in Above The Mealy-Mouthed Sea. In fact, some of the extended seaside fish horror metaphors could have been cut out (no pun intended) and the final work would still be just as strong.
While Jemima Foxtrot's larrikin lovability shines throughout, it's her performance poetry that eclipses everything. A Kate Tempest-esque vigour and verve causes images and words to swerve as they're heard, drawing out subtle, alternate meanings to Foxtrot's narrative. Personally, as a writer, one of the highlights was the entire breakdown of her running joke into L=A=N=G=U=A=G=E poetry, which I'm pretty sure would have been largely missed by the audience, but dammit if I wasn't snapping my fingers at the brilliance of this moment.
Above The Mealy-Mouthed Sea is not for everybody. This is a show for those who want to feel and who aren't afraid of feeling uncomfortable. This show doesn't deal with tidy feelings. So if you're a brave soul who loves language, comedy, slight sonic onslaughts of song, Simpsons episodes as bedtime stories and taking the long road to find peace with the trauma of the past, then yes… this show is for you. Take a deep breath, plunge deep and trust that Jemima Foxtrot will help heave you up on the other shore. Drowning in another's words has never felt so good.
NB – this show has a content warning for discussions of sexual assault and extended metaphors involving fish horror.
Above The Mealy-Mouthed Sea is on until Feb 3rd. Head to fringeworld.com.au for more information.
Scott-Patrick Mitchell
---
Support OUTinPerth
Thanks for reading OUTinPerth. We can only create LGBTIQA+ focused media with your help.
If you can help support our work, please consider assisting us through a one-off contribution to our GoFundMe campaign, or a regular contribution through our Patreon appeal.