Montenegro stages gay pride parade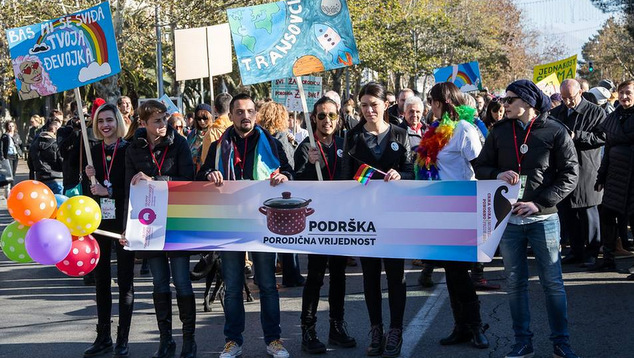 Dozens of people have participated in a gay pride event in highly conservative Montenegro.
The government has promised to introduce legislation that will recognise same sex relationships. Over recent years Montenegro has slowly been improving conditions for LGBT citizens. The move has been prompted by the country's desire to join the European Union.
Hundreds of police were deployed to protect the small group of marchers as they walked down the street in the centre of the capital Podgorica. Activists in the march displayed banners reading "Born This Way" and "Equality for Everyone."
The first Pride marches in Montenegro were held in 2013, where gay and lesbian people faced violent anti-gay protesters.
Queer Montenegro, who organised the parade, called on the government to legislate for marriage equality, but also said that families needed to be more supportive of their gay relatives.
"With this Pride, we seek support from those that we care about most, from fathers, mothers, brothers, sisters, relatives. Support is lacking when they find out you're gay," Daniel Kalezic, head of the organising committee told Balkan Insight.
Joining the small group of marches was the country's Minister for Culture Janko Ljumović, and Mehmet Zenka, the Minister for Human Rights.
Surveys in Montenegro have previously revealed that 71% of the population believe that homosexuality is an illness and a 58% of citizens consider it to be "very dangerous to society".
Homosexuality was decriminalised in Montenegro in 1977, but the LGBT community has remained largely underground in the conservative nation.
OIP Staff, Image: PR Centar, used with permission.