National Faith Forum calls for marriage equality for all Australians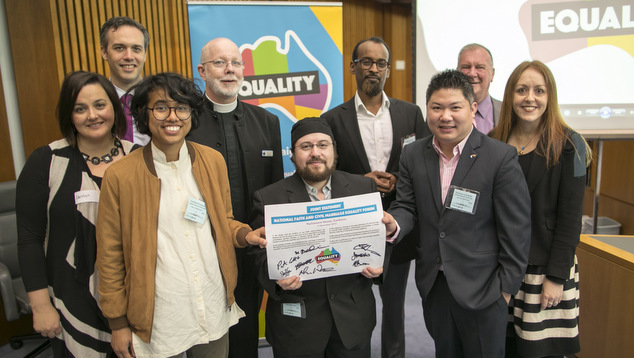 While the government ponders a potential 'Plan B' for address the issue of marriage equality the campaigns for and against allowing same sex couples to wed continue.
Today the Equality Campaign hosted their first National Faith and Civil Marriage Equality Forum at Parliament House Canberra.
The event brought together religious leaders from Muslim, Jewish and Christian faiths. Tiernan Bradt the Executive Director of Australians for Equality highlighted that many people of faith are supportive of marriage equality.
"The leaders come from across the country and spoke about how they have found a way to support marriage equality not despite their faith but because of it," Brady said.
"The values behind marriage equality are the same as those in religion which are about human dignity, love and respect.
"Today's forum is about coming together across a diverse range of faiths to talk about how people of faith can support civil marriage equality.
"Most of our faiths are built on the foundation stones of respect, human dignity, the sanctity of the person and social justice. These values do not contradict same-sex marriage, rather they lead us to supporting it.
Prior to coming to Australia Brady headed up the successful 'Yes' campaign at Ireland's referendum on marriage equality.
"When Ireland achieved marriage equality, it was because many religious people supported it because of their faith, not in spite of it. Ireland is still a nation of faith, strong family structures and marriage equality is not a contradiction to that," Brady said.
Human Rights Commissioner Ed Santow also spoke at the Forum said, 'the one thing all these religions share is a focus on the protection of individual dignity, kindness treating each other as your brother and sister.
The forum ended in a joint statement from the religious leaders supporting equality for every Australian, while calling on Australian politicians to unite and make civil marriage a reality.
The joint statement said:
As clergy and lay leaders in our faith communities, we believe we are all equal in the eyes of G-d, regardless of sexual orientation, gender identity or intersex status. We urge faith leaders to promote equality and inclusion for all people.
As people of faith, we understand that marriage is based on the value of love and commitment and we support civil marriage equality, not despite, but because of our faith and values.
We support a change to the legal definition of civil marriage to include LGBTI people's relationships and families, a change that the majority of Australian society supports.
We urge people of faith to exercise their freedom of conscience to stand up for civil marriage equality as a matter of social justice.
We call on politicians to unite to make civil marriage equality a reality for every Australian.
The campaign against marriage equality has largely been lead by the Australian Christian Lobby, alongside an association of conservative family groups.
OIP Staff