Parties Galore After the Parade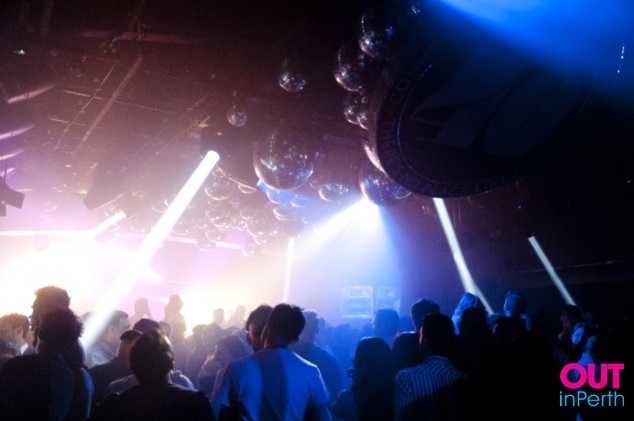 There's no shortage of choice when it comes to Pride Parties tonight. After the Pride Parade wraps up there's  six different celebrations vying for your attention.
Pride WA's Official After Parade Garden Party
The celebrations don't end with the Pride Parade, head on over to James Street Amphitheatre for the Official Pride Parade After Party. There's no better place for you to celebrate the end of the Pride Parade and PrideFEST than at the Official Pride Parade After Party.
The Garden Party will feature roving entertainment, street performers and live music as well as a fully licensed bar with food by Eat No Evil. The Garden party opens at 4pm and is at the James Street Amphitheater in front of PICA in the Cultural Centre. Due to popular demand this event has moved from Museum Walk to the James Street Amphitheater.
My Little Show Pony at Connections
Connections doors will open the moment the parade finishes. Tonight Connections promises a party focussed around diversity, tolerance, expressing yourself and being proud.
Electro -pop superstar Luciana is the headline act. The singers had a stack of club hits including Yeah, Yeah, I'm Still Hot, and I Like That. She's collaborated with everyone from Cazwell, to Dave Aude, Basshunter, Richard Vission and Will Sparks.
Pole dancing champions Miss Felix Cane and Blue Phoenix will be performing, there'll be shows from drag stars BarbieQ, Feminem The Future, Harvest Dubois, Veronica Jean Jones, Alexas Armstrong, Fay Rocious and Delvira Midnight. Milly, Feminem and JJ will be DJing in the main room while in the Lounge and on the Terrace Tim Brown, Cinnamon and Aslan will be selecting the tunes. Connections is at 81 James Street, Northbridge. 
Glow Job at The Brass Monkey
The Brass Monkey has DJ Mason Andrews providing the tunes, Grizzly and Peta will be the supporting DJs. They provide the glow-in-the-dark paints and you are the canvas! Swish Eveready will be providing all the visuals. The Brass Monkey is on the corner of William St and Lake St, it's also a great spot to watch the parade from.
Bar Pop's Adam and Steve in the Garden of Eden
Bar Pop has just opened in the Urban Orchard and tonight they present a party that supports the M-Clinic. Their party starts with a family friendly party from 4pm, There'll be face painting, bubbles, acrobats, live music and dancing! DJ Hello Sailor will spinning tunes and there will be live music from acoustic trio Trinity Bells featuring Rose Parker, Nat Ripepi and Annabelle Harvey and hip hop artist Ziggy Fatnowna will perform.
After 8pm, it's an adults only affair, featuring DJs, burlesque dancers, live music and drag queens. Triple Threat performer Jeffrey C Souza from NYC is hosting, local band Lilt will launch their new single, pop singer Philip La Rosa will perform his tune Pride, Boylesque performer Tess OZteron will reveal his new tune Like a Unicorn, Nikki Mauri and Essie Foxglove will perform, Drag performer Misty Phlatable will take to the stage and FUP Duck Crew will DJ.
The Court Hotel's Rio Carnivale Party
The Court Hotel's Pride Celebration have a Caninvale theme with Superstar DJ Havana Brown as the headline act.
She has toured the world from Tokyo to Paris to Miami and everywhere in between. She's supported the likes of Britney, Gaga and Rihanna, has a million Facebook followers and her own billboard in Times Square and her quadruple platinum hit "We Run The Night (feat. Pitbull)" sold over 2.5million copies globally. Havana Brown will be DJing and providing a live vocal performance. 

DJ Superstar Alex Taylor is also appearing, he's played for Madonna and all across the globe, he's supported the likes of Miguel Migs, Armand Van Helden, and Roger Sanchez, his home base of Sydney has seen him headline Sydney Mardi Gras. 
Also appearing for one night only is Sydney's DJ DU JOUR who joins a line up the includes local DJs Timbee, Wasteland, Sir Chancealot, PLilly, Selena Murby, DJ Leask, DJ Henton, Danny Boi and Skooby. Drag queens Scarlet Adams, Ruby Jewelz, Katya Kokov will also be part of the action and Hannah Conda will be hosting the main stage all night long.

The party will also includes games and rides, a naughty bouncy castle, live parrots, a silent disco and a black-out zone for those who want to get dark and dirty. 
The Women's Masquerade Party
Lesbian Space is holding a women only party at The Italian Club's Member's Bar at 217-225 Fitzgerald Street, North Perth. DJ Di is providing the tunes and the night has a Masquerade theme, so you'll need a mask.
OIP Staff