Pauline Hanson: gays should leave Australia if they want to wed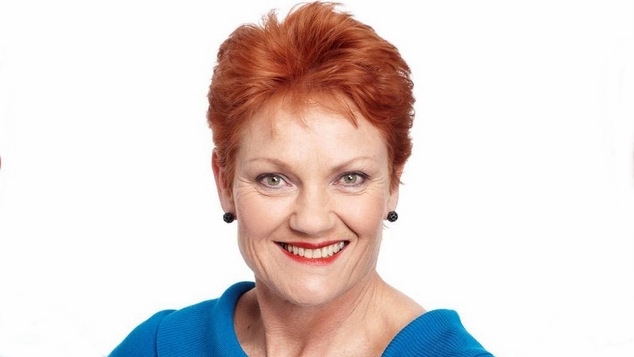 One Nation leader Pauline Hanson has suggested that gay people who want marriage equality should consider leaving Australia and moving to another country.
The emigration suggestion was just one of several comments Senator Hanson made during an appearance on Melbourne's LGBTI radio station JOY 94.9.
"I don't care what other countries around the world are doing, my responsibility, and I'm a citizen of Australia, so I don't care whats happening around the world. If you feel that strongly about it then I'm sure you could move to that country and then you can have the marriage." Senator Hanson told host David McCarthy.
The outspoken senator appeared on the program 'Saturday Magazine' and told the hosts that she had been encouraged to speak to the community radio by her gay Chief of Staff, James Ashby.
Senator Hanson, 62, said she believed in equality for all Australians and had no problem with same sex relationships but said she was not convinced that allowing same sex couples to marry would not have an affect on society.
"What you've got to understand is that I come from a time when there was no discussion about gay marriage or gays and lesbians living together, or whatever – that my background that's what I was grown up with." Senator Hanson said.
"Society has changed over a period of time, and I agree that everyone has the right to live their life in peace and harmony. I don't have a right to tell anyone else how to live their life, if their happy, everyone has the right to happiness.
"The gays and lesbians are now wanting to change my way of thinking of who I am because they now want to take out of the concept to me was that marriage was between a man and a woman. Now you want to change it to whatever sex."
Senator Hanson said she has no concerns about what gay and lesbian people did behind closed doors .
The One Nation leader said as a politicians she had weigh up issues on whether they would benefit the whole of society adding that she believed the marriage equality issue had been blown out of proportion.
The twice married politician said that her belief was that marriage was a commitment between two people and asked why gay and lesbian people needed public approval of their unions. Senator Hanson said it was more important that people made commitments to each other.
"Why do you want to take the word marriage? Why don't you look at it as civil ceremonies?" Senator Hanson suggested. "You're taking the word marriage which is between a man and woman, you've actually got to give on this part."
Senator Hanson said he policy was to hold a national referendum to add a clear definition of marriage into the constitution, then follow that up with a plebiscite to gauge public opinion before finally leaving politicians to have a conscience vote in parliament.
"I've had a lot of gay friends over the years, I've associated with the gays and I've actually worked with the gays." Senator Hanson said citing her close friendship with entertainer Todd McKinney.  Hanson said many of her gay friends had told her they don't believe in marriage.
Senator Hanson said she understood that gay people wanted to feel like they were equal to everyone else and she understood that other countries has changed their laws, but she believed the issue should be put to the people via a plebiscite.
The senator from Queensland said she didn't believe the plebiscite should be held in 2017 due to its cost and would prefer the vote be held off until the next federal election.
Pauline Hanson said she disagreed with suggestions that the plebiscite would lead to hate speech and Australian society would be able to conduct a balanced debate.
"I think it will be a balanced debate, people will put their points of view across."
Senator Hanson said she believed that organisations that highlighted research showing the debate may have a negative effect on some people's mental health were pushing their own agenda.
If the government was successful in their bid to hold a plebiscite Senator Hanson said she would vote in favour of marriage equality if the majority of Australians wanted it.
Listen to the interview on the JOYFM podcast.
OIP Staff