People, music, fashion – What makes a queer bar queer?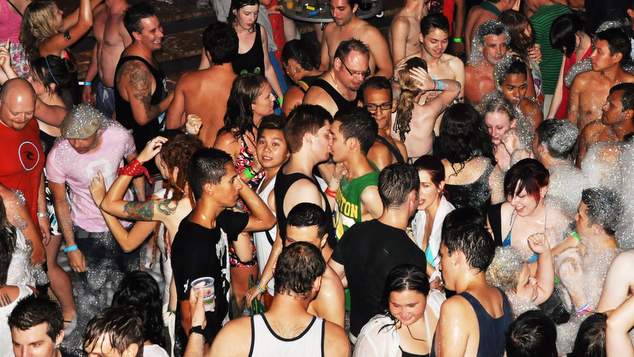 OPINION
When your favourite gay venue has recently been renovated and is now one of the nicest looking spaces in town, it has the best DJs, amazing lighting, reliable security and friendly bar staff – it's no surprise that it becomes the venue that everyone wants to hang out in.
But what happens when the bar, pub or nightclub is a gay bar, and suddenly it's filled with a throng of guys who are only into girls and girls who are only into guys?
A few months ago local drag star Feminem the Future recently touched on the issue in a video she posted to social media. Tired of constantly hearing people's complaints about there being too many straight people in a gay bar Feminem said enough of the whinge-fest – let's come up with a positive plan of action.
The world is different now, there's Grindr, Tinder and Scruff, Netflix, and UberEats, do we need to go out? And when we do – are we just spending our time looking at our phones?
3 Dollar Bill, a new bar in Brooklyn, has brought in an interesting policy to ensure the bar is a place where people speak to each other and interact. When you pass through the door you have to check your phone, you can leave it in the cloak room or have it sealed in a bag. No Grindr, No Facebook, No Instagram – a return to the pre-smartphone days.
A friend recently told me that he often gets approached by young gay guys demanding to know why he's hanging around queer spaces. What's an older cisgender man doing in this queer space? These young guys don't realise he is a transgender guy, and he's noted that he was an out and proud lesbian in the same space when they were still in primary school.
Another friend recently pointed at a group of girls on the other side of the club and lamented that there were too many straight people in that night. I looked across at the group and pointed out that every single girl in the group she was complaining about was either gay or bi. Maybe we just fail to recognise our own people sometimes.
If we travel back to the 80s and 90s gay bars used to play music that you just didn't hear in straight venues. Hi-NRG was the soundtrack of queer culture, are we now just listening to the same Top 40 that's playing in every other club in town?
What makes a gay bar gay? What is queer culture? If you're not going out at least once a week can you moan about the state of the scene?
Today The Court Hotel has promised to bring in a new Code of Conduct for patrons, tackling the many complaints that the venue has become the most popular straight bar in Perth. What are the rules of good behaviour in a LGBTQ+ club?
Got any answers to these questions? Add them in the comments below. 
Graeme Watson, Image: Foam Party at The Court in 2013 
---