Peter Hook to bring Orchestrated Joy Division to Australia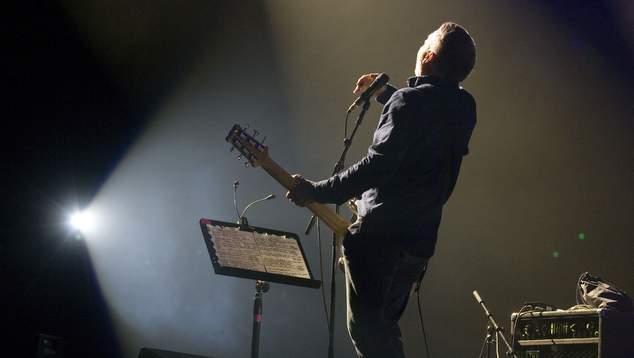 Joy Division bass player Peter Hook is heading back to Australia with a whole new way of hearing the band's legendary tunes- with a full orchestra.
Peter Hook – Joy Division Orchestrated featuring The Metropolitan Orchestra will be touring Australia in August.
They'll begin in Sydney with a show at the Opera House on Friday 2nd August, before heading to Adelaide on  Saturday 3rd August for a performance at the AEC Theatre, they'll be in Brisbane on Tuesday 6th August at the Brisbane Entertainment Centre, before heading to Perth on Friday 9th August to perform at the Perth Concert Hall.
Finally they'll play a show in Melbourne on Sunday 11th August at the Plenary Theatre.
Tickets On Sale Thursday 18th April, 10am local time.
Having sold out the debut concert at London's Royal Albert Hall in July 2019, the Australian dates are the first outside England to be announced and follow on from Hooky's many successful tours of Australia with both The Light and New Order.
The show is curated by Peter Hook acting as Executive Producer with Musical Director Tim Crooks taking care of the orchestration. The concerts are the first time that an original member of the group has taken part in such a project to remember its decisive back catalogue.
One of Australia's most versatile and independent orchestras, well established for over a decade now, The Metropolitan Orchestra is joining the tour for all dates, having previously worked with the cream of the world's vocalists and musicians and concert tours with Basement Jaxx and the BBC (Dr Who / Blue Planet).
Given the band's iconic legacy, the arrangements of classic Joy Division are to be presented in a state-of-the-art concert setting with the highest standards of production.
As the band tragically ended on the eve of their first American tour in May 1980, Joy Division's influence round the world has grown remarkably since and remains now ever present, with fans of all generations complimented by the many contemporary groups who have taken on the template of the band's sound in the modern era.
Across their two LPs and singles, all produced by Martin Hannett for Factory Records, the band's landmark tracks are to be featured in "Orchestrated", including from the band's debut album considered by many the finest debut release by any group.
Peter Hook shared his excitement about returning to Australia with a new way of appreciating Joy Division.
"When we began to celebrate Joy Division with The Light in 2010, Australia was one of our first international visits. Our seventh gig came in Melbourne and as always down under, the reactions were amazing. Over the years I've come to love visiting Australia more and more, the people are wonderfully hospitable and to be able to bring the show here, straight from the Royal Albert Hall, is a tremendous honour.
"In my recent work with orchestras, I realised that my first group could also lend itself to this treatment. Post punk is already dramatic, this will accentuate and take it to another performing and emotional level. "
"I've been very impressed with how our arranger Tim Crooks works and I know the band's canon will be treated with great reverence and care, enthusiasm and passion as the originals were. I know everyone involved will be adding something very special."
Get tickets to the shows from We Are Nice
Source: Media Release, image: Peter Kaminski © Copyright 2017 All rights protected. 
---