Powerfully Vulnerable Fashion: Hoodedwept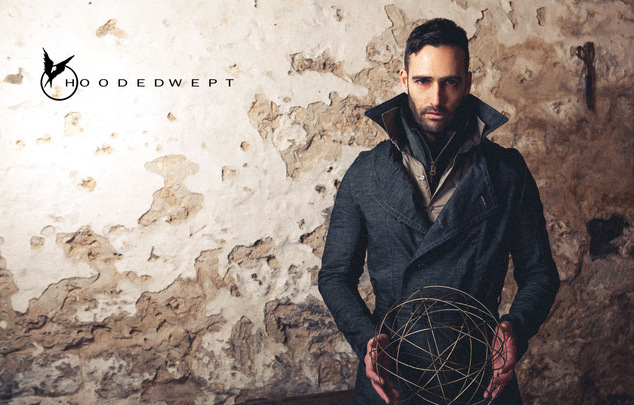 Fast fashion is so last decade. Now the focus is on slow-fashion: made-to-order clothes locally produced by small teams of artisan garment makers using organic and ethically sourced fabrics.
Enter Hoodedwept, a Perth label into their second season, who are already making splashes around town after their incredible STYLEAID debut.
OUTinPerth stopped by the label's headquarters in Claremont to chat to designer Neil Sheriff about the new fashion tribe Hoodedwept is helping attire…and how!
Tell us about the new season, Kintsukuroi, based on the Japanese art of healing with gold?
It's all based around the idea that anything broken is enriched for being broken and reconstructed, so you're actually enriched by your breakage as opposed to being damaged goods. SS17 is quite monochromatic: key colours are this antique dusty gold that look like it's been wrenched from a Roman grave, platinum cotton, and this really pale khaki that we're calling seagrass. It's all very beautiful with a wistfulness to it, but still quite strong and very much of the tribe that will connect with it.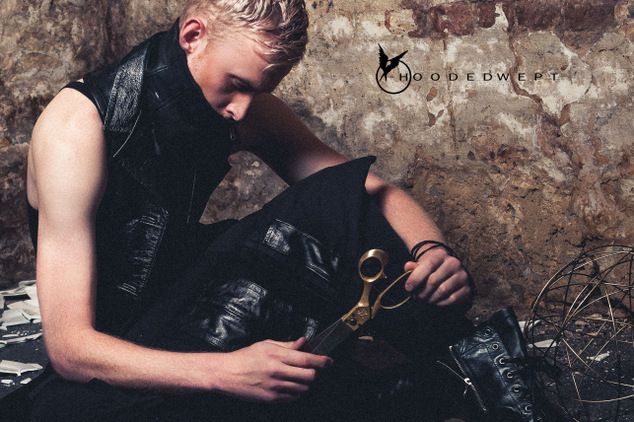 Tell us about your tribe?
It's mainly creative professionals that seem to connect with what we do. A big part of the ethos behind Hoodedwept is storytelling. We want people to connect with something beyond the garment itself. But on a more commercial level it's about easy-care, easy-wear, edgy day pieces that you can weave into your broader wardrobe.
How do you hope your clothes empower the wearer?
I hope it helps people connect with their own authenticity and gives them courage to be a more authentic version of themselves via the cuts and textures they are choosing to adorn their bodies with. For me, it's all about choice. Some of our best clients are people you'd never expect in our stuff but it brings something out in them: it awakens a part of them they didn't actually know was there. Our clothes let your wardrobe evolve into something that wasn't there before.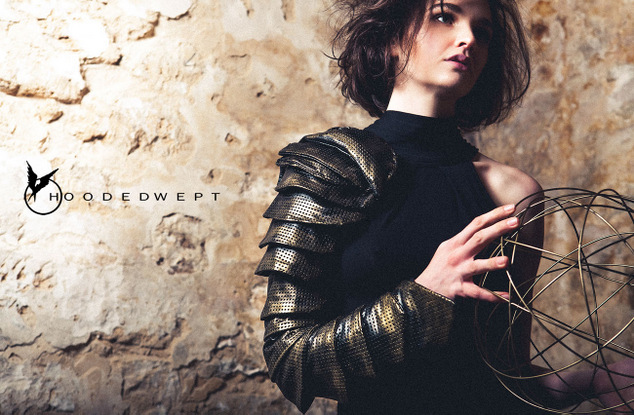 There's a real warrior-esque edge to your clothes yet the fabrics are incredibly soft: tell us about this duality in Hoodedwept?
There's a massive edge of survivalism to what we do. As creatives, generally, you do have to be quite survivalist. You don't have to be like this badass military bastard: you find a lot of guys bulking for the sake of bulking in a gym. A lot of the girls want to be thin for the sake of being thin. It's more about connecting with something broader than that: bringing inner strength into your outer strength. People like soft textures next to their bodies, but they also like to feel strong. So we try to keep the silhouette strong but the fabrics soft: we create a knife edge of strength and vulnerability.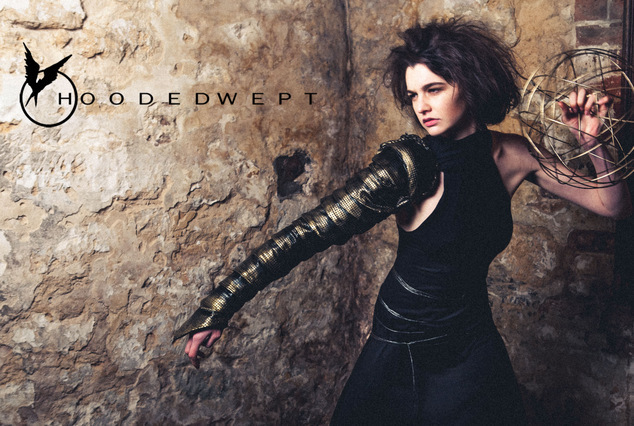 Stand out pieces this season include the Templar Hoodie, Combat Denim Trench, Yakuza Bomber and Kansha Bamboo Maxi-Dress. Visit hoodedwept.com to check out these styles and more!
Credits
ALAN CHAU @ Part-blue photography
Models;
Adrian Fullin @Chadwick models
(the stubbly Italian dude)
Casey Venning  (the girl)
Isaac Campbell @Ballet Koblenz
(the blonde, dancer chap)
HAIR;
Michael O'Dowd @O'Dowd Christie Hair
Scott-Patrick Mitchell