Professor David Flint calls for results of postal survey to be set aside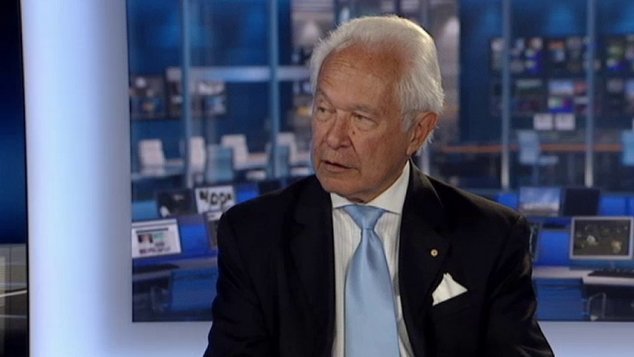 Professor David Flint has argued that the results of the marriage postal forum will be "bloated" and questioned the legitimacy of the process.
Flint made the comments while appearing on Mike Williams' Overnight program on Sydney radio station 2GB.
"How many of them are genuine?" Flint asked when told that over 77 per cent of eligible voters had returned their survey forms.
Flint said many people on the electoral role were fraudulent and because of this it will have led to a bloated 'yes' vote in the survey.
The former chair of the ABC was discussing an article he recently wrote for The Spectator. In the piece Flint says Australians who signed up to be included on the electoral role prior to the commencement of the marriage postal survey were not adequately checked to see if they were legitimate.
Flint also said the forms used in the marriage postal survey could easily be copied and there was no way to ascertain if legitimate feedback was being entered into the count being conducted by the Australian Bureau of Statistics.
"The voting form, which hasn't even been initialled by an official, is easily copied. So, when the bar-code is read, will it be determined in the presence of independent scrutineers whether this is the original or a copy?" Flint asked.
In his article Flint said the reality was there was no serious demand for change and the results of the postal survey should be set aside and the issue taken to the next election as a constitutional referendum.
"Changing the institution of marriage was always far too important to be left to the politicians, but this survey lacks any integrity and is against the clear intention of the Constitution. It can enjoy no moral or legal authority.
"The only proper course now will be to delay any further action on something for which there is hardly any real demand and certainly no urgency as demonstrated by the feverish attempts by proponents to stop it.
"The issue can only be determined properly at the next election through a constitutional referendum under an electoral system reformed to be better than that worthy of a banana republic." Flint wrote.
During his radio appearance Professor Flint said the push for marriage equality was part of a long term plan that had been formulated by Marxists who had taken over the education system.
Flint said educational standards of Australian schools were dropping because the federal government was getting in the way of what he sees as being a state responsibility, and because of this interference, schools have been taken over by Marxists.
"What's happened is because the politicians have created this mess, it's allowed the Marxists to move in and replace education with propaganda." Flint said.
The respected academic said Marxists in Australian society were determined to destroy the family.
"They want to undermine the family, that's part of the agenda of the left, and to do this what's they've decided is that they'll create a completely non-existent LGBTIQXYZ community. There is no such community." Flint said.
Flint argued that calls for same-sex marriage was a ploy to disguise a hidden agenda.
"This is not the real thing that they are searching for, because once they get that, they'll be no stopping them."
Professor Flint said allowing same sex marriage would lead to an acceptance of gender fluidity which he said could have serious consequences for women's safety. Flint said there was a push to make gender a psychological choice rather than a physical reality.
"One day you can pop up and say 'Oh, I'll become a woman' and I'll go into women's lingeries and dressing rooms and do something terrible there." Flint said.
It's not the first time the academic has made the dismissive statements about transgender people during his radio spot on 2GB. Back at the beginning of the postal survey campaign he made similar accusations.
OIP Staff
---
Do you need some support?
If you are struggling with anxiety or depression, support and counselling are available from:
Lifeline: 13 11 14
Beyondblue: and www.beyondblue.org.au
QLife: and www.qlife.org.au
QLife are a counselling and referral service for Lesbian, Gay, Bisexual, Transgender and Intersex (LGBTI) people.
---
Support OUTinPerth
Thanks for reading OUTinPerth. We can only create LGBTIQA+ focused media with your help.
If you can help support our work, please consider assisting us through a one-off contribution to our GoFundMe campaign, or a regular contribution through our Patreon appeal.