Q&A Queer Special: Our Highlights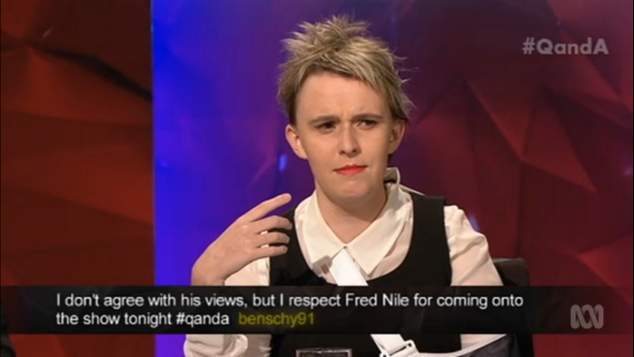 Last night on Q&A, the panel discusses the state of LGBTIQ rights in Australia today and took a look back at how far they have come since the release of 'Priscilla, Queen of the Desert' changed the social landscape forever.
Tom Ballard deftly led the debate, which touched on LGBTIQ issues in education, religion, love and law.
Of course, the panelists had much to discuss, particularly in the presence of vehement marriage equality opponent Reverend Fred Nile, who was certainly outnumbered in his views on the panel last night.
In the spirit of Priscilla, we've selected our favourite light-hearted moments from the episode that highlight the serious heart of issues facing the LGBTIQ community, then and now.
Katherine Hudson's Facial Expressions
The co-founding member of the Wear It Purple campaign did not hide her disdain for Reverend Nile as he spoke about, well, anything. ABC's camera operators were not shy in ensuring Ms. Hudson's reactions were available for all to enjoy.
Julie McCrossin: Journalist, Mother, 'Dag'.
Self-professed 'friendly, suburban face of lesbianism', McCrossin represents those of the LGBTIQ community who are somewhat conservative in their expression, though certainly no less proud of her community. As a religious leader, McCrossin admitted she felt conflict when it came to children being raised without a male or female influence in their lives, but that she was "guided by the next generation" and had seen much positivity in children of LGBTIQ parents. McCrossin's doubts highlight that there is still much debate to be had within the community, as well as with those outside of it.
Julia Doulman
Trans pioneer, Julia Doulman, had a very simple response to a very loaded question. When an audience member fronted the panel to explain how Sexual Reassignment Surgery could be considered "good medicine" when in his opinion it is the "deliberate damaging and mutilating of otherwise perfectly functioning bodily faculties", Doulman had a succinct response: "I'd rather have twisted, mutilated genitals than a bullet through my head".
Dennis Altman Is Not Having It
Author Dennis Altman's responses throughout the evening were clear, articulate and rational. Altman made sure to assert to Reverend Nile and the audience when opinions were based in ideology, rather than fact or evidence. Reverend Nile's assertion that children of same-sex couples perform more poorly in life has been debunked by scientific and sociological evidence gathered from across the globe. Altman's vigour for identifying misinformation is imperative in a social debate of this magnitude.
Paul Capsis Loves The Nightlife
Paul Capsis' earnest retelling of his experiences were some of the most charming moments of the show. The quietest member of the panel burst out of his shell at the closing of the show, pelting out a rock & roll rendition of Alicia Bridges' 'I Love The Nightlife'. The cabaret star wrapped up the tune by exclaiming 'F**k disco!', listed off his favourite rock icons and praised Jesus Christ.
OiP Staff

Read More
18-06-2015   Tom Ballard Talks Tonight's Q&A
12-06-2015   Q&A Confirm Full Panel For Queer Special
11-06-2015   Fred Nile To Join Q&A Panel For LGBT-centric Episode