Getting Deep with local musician Rabbit Island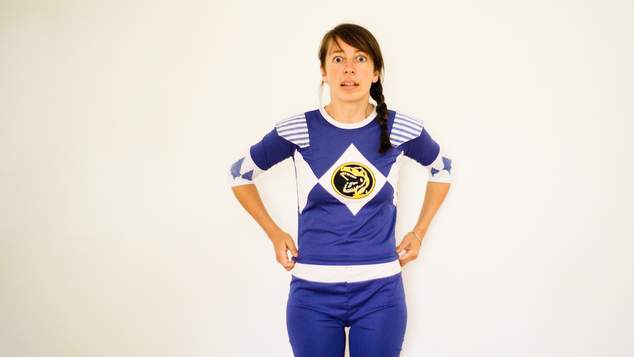 A brand new album from Rabbit Island, the musical project of Amber Fresh, is about to be released and it's a rich, dense and beautiful collection of songs, it traverses the genres of dream pop, lo-fi ambient and psychedelic folk.
Amber meets me for a coffee at Mr Fox on William, the cafe is packed and we can't get a seat, so we jump over the road to Little Willy's – grabbing the corner spot near the window.
A few years ago she used to have an irreverent radio segment on RTRFM's Breakfast with Barr. Each week Amber and sidekick Matt Acorn would turn up for The Gulls Review Hour and talk about anything and everything under the sun. A stream of consciousness conversation that could go anywhere and everywhere.
I hosted the Breakfast show on a few occasions when Peter Barr was away and always been intrigued by where Amber's creative mind would take a conversation. It was always guaranteed to have unexpected twists and turns. Having fallen in love with her new record after just one listen, I was intrigued to find out how she approached writing and creating music.
Creating her new album Deep in the Big has been a long process, "It's been a very long time, the recordings were all done about a year and half ago," Amber said. "But I'm just super indecisive, working out what I wanted for the cover art took ages, the mastering took ages, but the actual recording was pretty quick."
"I just wanted the recording to be a pleasurable experience, just as it was last time I was in the studio." Fresh said, revealing her goals when heading into the studio were entirely intrinsic. "I hope that this music is appealing and enjoyable to people, but I'm not thinking about that when I'm making it."
Asked if she's writing for herself or her audience, Fresh says it is neither. "I don't feel like it's me that's writing. I have a different way of making songs than most people I know. I just like to make everything at the same time. I don't like to write words – I'd rather just do it – all at once. If I like something I do, then I keep it, and I learn it."
Amber said she's happy to labour over the process of mixing a record, but the actual writing of the songs is something far more instantaneous. "It's not about thought and intentions, it's more just letting whatever needs to come through – come through."
For each Rabbit Island project the songs are always from Amber, but she assembles a different cohort of musicians to work alongside. She says that musicians who can improvise and play without rehearsals are her favourite collaborators.
"I don't like to rehearse much, or even once, so if we're playing for a performance or even recording, I like people who I know they can do something special in the moment, without thinking too much about it or labouring over it." Amber said.
When it comes to career ambitions Amber Fresh's are simple, she's not aiming to headline a major festival.
"I don't aim for that, I'd just like this album to be for the people who it will be good for, I just want them to listen to it and enjoy it – honestly if that's ten people or more that's fine." Amber declares.
She pauses, thinks for a moment and then adds, "but it would be nice to have all the copies that are being pressed sold."
Rabbit Island's Deep in the Big is released today Friday 17th August. Check out the song 11, 12, 13 from the album.
To celebrate the release of the new album Rabbit Island is heading off on a massive tour around the country.

RABBIT ISLAND DEEP IN THE BIG ALBUM TOUR
27/9 – Golden Age Cinema, Sydney
w/ Lehmann B. Smith
28/9 – Marrickville Bowls Club, Sydney
w/ Good Morning, Shrapnel + more
29/9 – Heritage Railway Hall, Thirroul
w/ Good Morning, Shrapnel + more
30/9 – Thyme to Taste, Yass
w/ Lehmann B. Smith
arvo show!
30/9 – Smith's Alternative Bookshop, Canberra
w/ Lehmann B. Smith
05/10 – Moreland Band Hall, Melbourne
w/ Good Morning + more
06/10 – Chateau Apollo, Adelaide
w/ Good Morning + more
07/10 – Half-Time, Adelaide
w/ Good Morning + more
12/10 – Badlands, Perth
w/ Peter Bibby
13/10 – The Prince Of Wales, Bunbury
w/ Peter Bibby
14/10 – Mojo's, Fremantle
Graeme Watson, image: Matthew Saville
---