Review | Magic Mike meets True Grit in Railed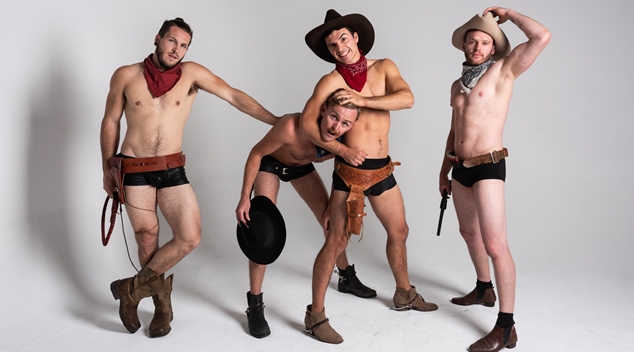 Railed | West Australian Spiegeltent | til 10th Feb | ★ ★ ★ ★ ½ 
To say "I want to get nailed by the cast of Railed" would be an understatement.
From the makers of Elixir, (which this reviewer also enjoyed last year) the boys from Melbourne circus arts troupe, Head First Acrobats, brought their own comedic, sexy brand of well-acted, well-choreographed and well-executed circus to Fringe's famous West Australian Spiegeltent in the Pleasure Garden.

Is it high-brow, well-considered theatrical art? No. Is it a rollicking, drunken, horny trip through dust-blown prairies where the only saloon in town is populated by topless homoerotic cowboys in tight denim cracking whips and turning tricks, where even the horses are queer? Yes.
Homo-humour aside, this is a highly entertaining, well crafted show with some great acrobatics and character acting from town drunk Thomas Gorham, a highly watchable "token hunk" in whip-cracking, ladder-balancing, chair climbing Callan Harris (He knows how to fill a pair of Levi's). Highly entertaining input came from Adam O'connor-McMahon (try saying THAT when you're drunk!) and Harley Timmermans who brought crowd-pleasing comic relief with a simulated and highly acrobatic sex show between a rainbow unicorn and a horse with a whanger that would make even the most experienced bottom wince.
Couple this with a well chosen soundtrack of "countrified" contemporary classics to underscore the very gay-themed humour, (the show opens with a cover of Jay-Z's 99 Problems by British Blue-grass musician Hugo , it is clear from the off that this western fun-fest is aimed squarely at the straight girls and the gay guys… and why the hell not? It will sell out as a result and keep 4 very talented and likable artists in work for the duration. Who says there's no such thing as a rainbow economy?
The only minor detractor was the show finished slightly shy of it's advertised 1 hour and didn't have the traditional encore we have come to know and love from our Fringe circus. If they can iron that out, the lads are getting a 5 star rating next time. Highly recommended.
Railed will be at the West Australian Spiegeltent until Sunday 10th February. Tickets and more information available from fringeworld.com.au
Tom Pearson