Religious leader Franklin Graham attacks Pete Buttigieg for being gay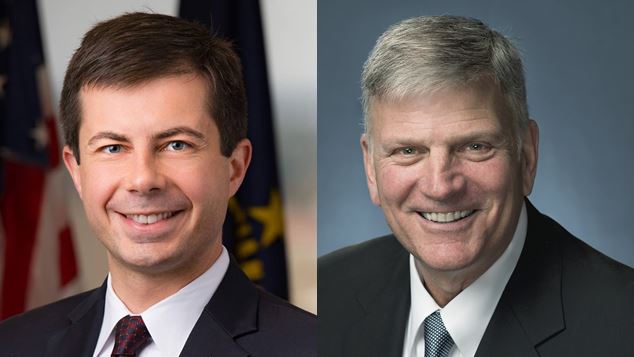 American religious leader Franklin Graham has attacked presidential hopeful Pete Buttigieg over his sexuality saying homosexuality should not be "flaunted, praised or politicized."
The song of world famous evangelist Billy Graham, also attacked Buttigeieg's marriage saying marriage could only between a man and a woman.
Buttigieg, the Mayor of South Bend in Carolina is seeking the nomination of the Democratic party, making him the the first nominee whose homosexuality has been publicly shared.
At recent campaign events Buttigieg has spoken about how important his Christian faith is to him, and his marriage to husband Chasten.
"It can be challenging to be a person of faith who's also part of the LGBTQ community and yet, to me, the core of faith is regard for one another," Buttigeig said at a recent campaign event. "And part of God's love is experienced, according to my faith tradition, is in the way that we support one another and, in particular, support the least among us."
Franklin Graham took aim at the presidential hopeful and in a series of tweets said homosexuality is something that people should be ashamed of.
"Mayor Buttigieg says he's a gay Christian," Graham wrote. "As a Christian I believe the Bible which defines homosexuality as sin, something to be repentant of, not something to be flaunted, praised or politicized. The Bible says marriage is between a man & a woman — not two men, not two women."
"The core of the Christian faith is believing and following Jesus Christ, who God sent to be the Savior of the world — to save us from sin, to save us from hell, to save us from eternal damnation." Graham wrote.
Franklin Graham toured Australia in February 2019, during his trip he met with Prime Minister Scott Morrison at Kirribilli House in Sydney.
In the most recent polls Buttigeig is coming third in the crowded field for the Democratic party's nomination. Twenty candidates have declared their desire to be the next Commander-in-Chief, former Vice President Joe Biden is the latest to officially join the race.
Biden's nomination comes as polls suggest he is the front-runner to take on President Donald Trump, the 76 year old is followed by 77 year-old Bernie Sanders, and the more youthful Buttigeig – who is 37.
OIP Staff
---