Retro Cassette Friday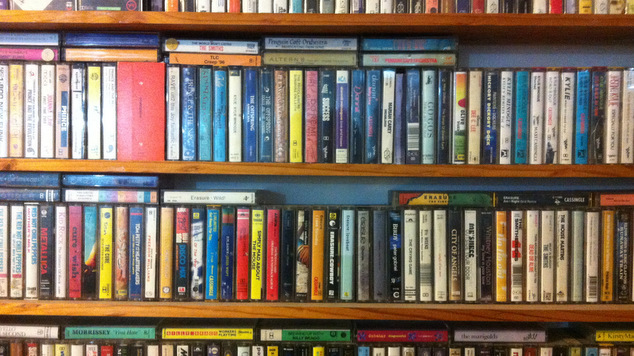 For this week's edition of Retro Cassette Friday we closed our eyes and grabbed three more tapes of the shelf. We blindly picked a Pet Shops Boys protege, one of the country's most respected journalists and some really painful local spoken work poetry.
Cicero – Future Boy
Spaghetti Records, 1992
Back in 1992 Pet Shop Boys set up their own record company, Spaghetti Records and one of the first albums released on it was from this Scottish singer/songwriter David Cicero who performed under his surname. Half of the tracks on the album are produced by The Pet Shop Boys and Chris and Neil perform on them as well, making this sound rather a lot like a Pet Shop Boys album with a different singer. The lead single 'Love is Everywhere' is slighly cringe worthy as it features bagpipes. Some of the other tracks are quite nice though.
Electric Pandas – Point Blank
Festival, 1985
The mid 80's were a highpoint for home grown music and Australian bands seemed to be everywhere. Fronted by Lin Buckfield this is their one and only album and it features their two big hit's 'Big Girls' and 'Let's Gamble'. The songs on here are cool and the bass guitar and pub rock drums are a classic sound but sadly the overuse of synthesisers really dates the overall sound. Lin Buckfield went on to become one of Australia's most award winning journalists, spending a long period at 'Four Corners',  she has five Walkley's including the Gold Walkley. Today Buckfield can be found at the ABC producing programs like 'Q&A' and 'Media Watch'.
The Magic Trousers – Into Making Life the Performance
Homemade – 1997
Sometimes you buy cassettes to support local musicians, what can we tell you about The Magic Trousers, not much. From this home recorded BASF cassette and its photocopied cover we can gleam some information the band featured Pierre Van Osselaear , Deanne Leber, Allan Boyd, Ahsley J Higgs, Steve Macri, Nathan Leber, Steve Bride and future member of The Tigers Chris Cobilis. Largely it's psychedelic rock with spoken work poetry over the top. Our overall verdict was it was quite distracting to have on in an office environment.
Read More:
28-06-2013   Donna Delory, Adam Rickett, The Blue Nile
21-06-2013   The Nolans, Mandy, Penguin Cafe Orchestra
14-06-2013   The Pointer Sisters, The Stone Roses, The Jungle Brothers
07-06-2013   The Tourists, Haysi Fantayzee and The Jacksons
31-05-2013    Agnetha Faltzcog, Bill Withers, Erasure, Cocteau Twins and The Smiths