Review | Answer the 'Call of Cthulhu' with the Improv DnD crew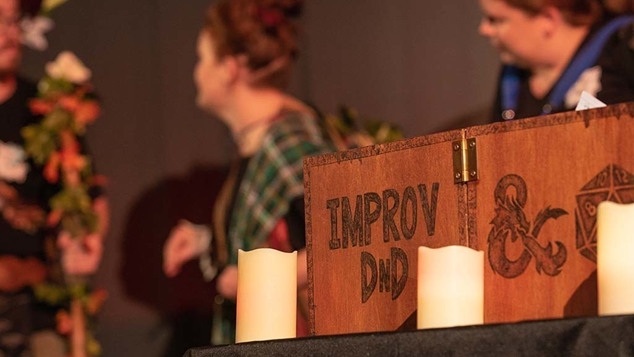 Improv DnD Presents: Call of Cthulhu | ★ ★ ★ ★ 
Improvising a Dungeons and Dragons piece, such as Call of Cthulhu, is a unique and exciting way to experience the world of D&D. Unlike a traditional game, where the plot and characters are pre-determined, an improv D&D show allows for a completely unscripted and spontaneous performance. The performers act out a game of D&D in real-time, improvising the story and characters as they go along with the assistance of the audience to determine actions and consequences, or to flesh out the characters' backstories.
In this particular improv show the characters consisted of a presumably American woman who left a cult after murdering her family (save her brother who is now looking for her); an American cab driver who recently found out they had a daughter in an orphanage, and; a British bus driver with a PhD.
One of the best parts of audience participation included the use of a Big Board of Madness, on which acting challenges were numbered. If a character made a poor choice, the character would 'go mad'. This meant that the Narrator would request the audience say a number from 1 – 10 and the improv actor would have to follow what the challenge from the board entailed until told to stop. One such example was where the British Bus Driver was challenged to only speak in rhymes, and resulted in some gut-bellowing laughter from the crowd.
In a show like Call of Cthulhu, the immersion would not be complete without its own unique background music and sounds. This kind of immersion called for a songstress with a sultry jazzy voice and pianist, perfectly improvising with each other to complement the mood of the scenes. From concocting the eerie sounds of a forest to improvising a country song being played through a radio, the accompaniment of musicality was a brilliant touch.
The story in Improv DnD: Call of Cthulhu unfolded quite organically and did not take long until subtle inferences to HP Lovecrafts' works were introduced through unexpected and hilarious twists and turns. This made for a highly interactive and engaging experience, where the audience feels like they are part of the story, because we were!
The improv actors were quickly able to create a sense of dread and unease, with unexpected and terrifying twists, creating a unique experience for the audience. In conclusion, improvising a Dungeons and Dragons piece like "Call of Cthulhu" was a unique and exciting way to experience the world of D&D, and comedic improv.
It allows for a completely unscripted and spontaneous performance, with the performers and audience working together to create a one-of-a-kind story unfolding over three nights. If you're a fan of D&D, improv comedy, or both, it's definitely worth checking out Improv DnD Presents: Call of Cthulu, as seats on night one had completely sold out!
Improv DnD: Call of Cthulhu season has ended but keep an eye out for the Improv DnD gang at future Fringe Festivals!
Alex Westin 
---

You can support our work by subscribing to our Patreon
or contributing to our GoFundMe campaign.