Review: Bey Dance Flawless – Beyonce Flashmob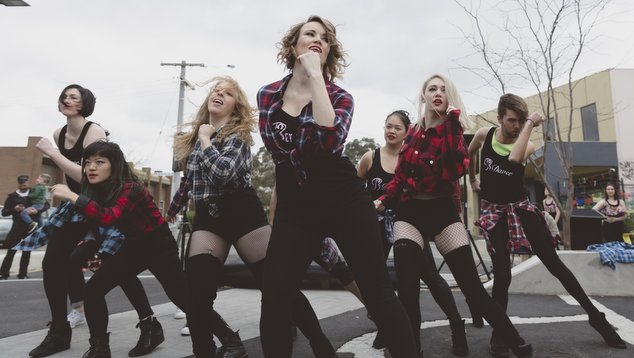 Bey Dance Flawless: Beyonce Flashmob | Lunar Sensation| Until Feb 10 | ★ ★ ★ ★ 
I am not a dancer. Besides the occasional drunken flail on the dance floor, I have no desire to move my body any more than is necessary. As someone who experiences crippling social anxiety at times, I also avoid drawing unwanted attention, and I abhor sitting in an audience where there's a chance of being chosen from the crowd and forced to participate in the proceedings.
Needless to say when I discovered I would be reviewing an INTERACTIVE DANCE CLASS that culminates in performing a FLASHMOB IN PUBLIC – I was… slightly concerned (read: almost cried). My love for Beyonce couldn't quell the thought that I was about to have to emulate one of the world's most provocative dancers in a public space – but this, dear readers, is my job and I set out to complete the task at hand.
I entered the Lunar Sensation tent to find myself in a room full of women stretching out their muscles, preparing for the hour ahead. Being one of two men in the room was hardly a concern, until I noticed the average age of participants was about half of my own (and I'm in my twenties…). The class began as me, some mums and a bunch of school-aged girls were greeted by the teacher.
As the teacher began to warm up the group and take us through some simple steps, I began to relax. The instructor was a calming and affable presence that put the entire room at ease. Noticing that many of the others in the room were struggling to piece everything together, I stopped bothering about getting it right and just tried to get into it. By the end of an hour, I think I'd somehow unlearned the steps as the group attempted to complete a full routine to Destiny's Child's 'Survivor' – but I was having an incredibly good time for someone who can barely even walk correctly. The highlight would have to be the breakdown of the song, when the group split in two and must 'dract' (dramatic dance-act) Beyonce and Kelly "Ooh ooh ooh"-ing at one another. I was surprised to learn that my body wouldn't allow me to contort my mug into a stank-face as we battled – a trait I will have to learn to develop.
The routine was learned and it was time to head into the Cultural Centre and perform the flash mob. I chose to abstain, partly for lack of confidence, partly because I thought the image of me gyrating with a troupe of pre-teen girls may be offensive to more than just me. I did walk away from the class feeling glad that I had attempted something that had horrified me at first, and ended up having a darn good time.
Bey Dance Flawless offers a friendly, fun crash course in dance, performance and finding confidence in yourself that I would recommend to anyone who is looking to break out of their comfort zone.
Leigh Hill
Grab tickets to Bey Dance Flawless: Beyonce Flashmob at Fringeworld.com.au