Review | Love Him Madly: The Doors Reimagined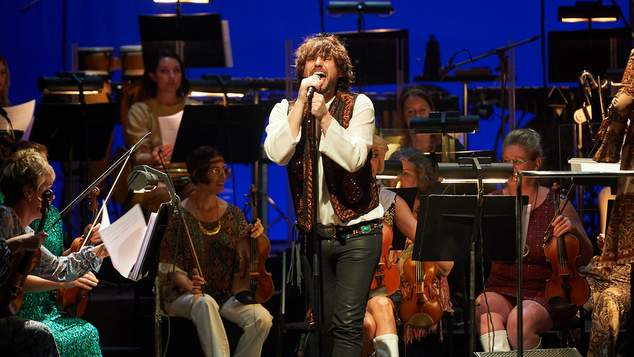 Love Him Madly: The Doors Reimagined | His Majesty's Theatre | ★ ★ ★ ★ ½ 
Love Him Madly: The Doors Reimagined was not simply an orchestral exploration of the hugely influential music of The Doors. Perth Symphony Orchestra created a show that took us back in time, using a number of approaches to bring us back to the social, political and cultural climate that The Doors emerged from.
Unlike the usual experience when attending an orchestra performance, with musicians dressed in their formal black and whites, when the lights came on we were immediately engaged with the visual feast of the entire orchestra dressed in a vibrant and eclectic mix of 1960's attire.
The show followed a timeline using a large screen hung at the back of centre stage, starting at 1960 and travelling through the bands journey, ending in 1971. We were reminded of key historical events such as the assassinations of Martin Luther King and JFK, the political climate created by the controversial Vietnam War and the surging momentum of social movements of women's equality, racial equality and the gay rights movement. Hits including Hello, I Love You, Break On Through and Light My Fire were dropped into this timeline, giving context for the bands popularity.
And let's not forget the charismatic singer, Justin Burford, who skillfully brought to life our collective memory of Jim Morrison. A great singer, he nailed Jim Morrison's deep, soulful tones and his passionate, signature rock and roll cries. He also did a stellar job performing Jim's on stage persona, drinking (faux) bourbon, holding the microphone stand like he needed it to stay upright and interacting with the audience during songs.
My only constructive criticism of this show was that the venue had no dancefloor. If one was provided it would have been full throughout the show. The audience was all in, singing along, with a few cheeky heckles and most stood up to dance in their theatre stall when invited to near the very end of the show.
The glasses. I'm not allowed to forget the glasses. Audience members were provided with glasses that transformed His Majesties into a psychedelic wonderland, adding colour and texture that's hard to describe, except to say it was a trippy experience. Well played Perth Symphony Orchestra, well played.
Halimah Halse, image: Richard Jefferson
---