Review | A O Lang Pho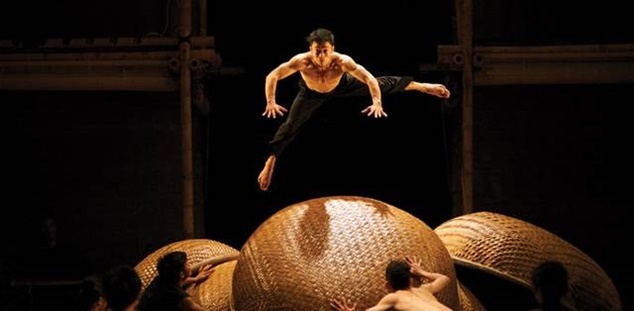 A O Lang Pho | Regal Theatre | Until Feb 25 | ★ ★ ★ ★ ★
It would be easy to throw out the usual suspects in reviewing the enchanting seventy minutes that I spent entirely captivated by contemporary Vietnamese circus, spectacular, spellbinding, a tour de force. Easy, but also lazy, while they do deserve every single one of those adjectives they also deserve me taking the effort to convey the evening that is A O Lang Pho.
Let me start by telling you; it was impossible to take notes during the show, and rightly so, as it commands your full attention from start to finish. In a performance full of blink and you'll miss it moments A O Lang Pho uses the artful manipulation of light, music, and distraction to weave their story from one scene to the next. Before you even notice the transition taking place, you have moved from the gentle lapping waves of the ocean as acrobatic fisherman coax their catch from the sea to the bustling market place where a cheeky thief leads a vexed merchant on a merry chase.
Each scene is punctuated with dance, martial arts, acrobatics and a unique theatrical flair, bringing to life the minimalist set and simple collection of rudimentary farming and fishing tools that are their props. Everything synchronises beautifully to tie the whole performance back to its Vietnamese heritage.
The playful ease with which the troupe of acrobats execute their aerial feats of dexterity routinely draws an eager round of applause from the audience to congratulate and encourage the cast as we hunger for more.
A mix of traditional instruments and the occasional beatboxing create the soundtrack to the show. The music sinks deep into your bones, resonating within you until you feel, at your core, the pulse of life driving the growth of the small fishing village into a bustling city. It pulls at you, until you are entirely immersed in the unfolding tale.
The only issue I could raise would be that the stage can be so busy at times that you often find yourself unsure as to where you should focus your attention. Everything happening is just so enthralling you don't want to miss a single moment, but that is like complaining you have too much money, and you don't know what to spend it on first. In that it's not an issue worthy of complaint.
A O Lang Pho will be at the Regal Theatre for the Perth International Arts Festival until Saturday February 25th. Tickets and more information available from perthfestival.com.au
Aaron Angel