Review | Spellbinding feats about in 'The Seven Sins of Sideshow Femmes'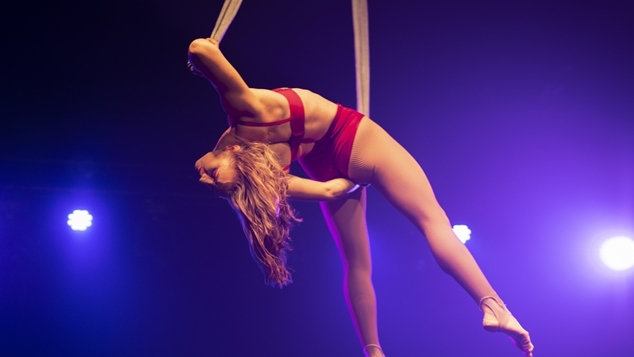 The Seven Sins of Sideshow Femmes | Planet Royale | til Feb 5 | ★ ★ ★ ★ ★ 
A show with more turns and kinks than a cheap garden hose, Sideshow Femmes is a powerhouse production of epic proportions. Taking us through each of the seven sins were an expert group of Australia's best, their names well known to many. In a show where the shock factor was high, this production is sure to set your heart racing!
With the electrifying Bella De Jac (as Lucifer) as our host, we were reminded early that sentient beings have no gender. This statement set the tone for underlying political themes that resonate within burlesque as an art form, and within sideshow as a performing art. The audience, though quiet, were simply in awe of the performers, and Bella continued the night flowing, engaging us all with her dulcet tones and gender-defying presence.
With a feast of sideshow performances, most of them hit their sin dead on. While some had a looser interpretation, they were all appreciated as simply extraordinary. Scarlet Tinkerbell has compiled a group of striking femmes – but don't let that fool you, as Bella reminded us; gender is a social construct, and these performers show that as fierce femmes, one has power, strength, and the ability to shock and entertain.
This show is not for the faint of heart, as many of the performances have trigger warnings, including themes of blood, razors and more. Kitty Obsidian, a fierce fAboriginal performer, was a particular highlight as we were inducted into the shock value of sideshow performances, and elicited laughs, gasps and horror with their playful Pride routine. With their staple gun in one hand, pulling flags from crevices all over their body, Kitty had a fabulous time, amping the crowd up before producing the next flag – and relishing in the satisfying 'clunk' of the staple gun forcing metal through flesh echoed around the theatre.
The most electrifying performance, where stunned silence took over the usual burlesque hollering, was Sian Brigid. A presence of pure confidence, Sian begins Sloth with captivating-yet-horrific doll-like actions; she shows her mind-boggling talents with fierce acrobatic style movements while draped in an innocent white gown, with peeks of leather hinting at things to come. However, there was not a single person prepared when she doused the stage in shards of glass, peeked at us knowingly, and danced upon it. Recoiling, the audience was silent; Sian's face showing that it was exactly the response she sought. Simply breathtaking in execution, this incredible soul exemplifies sideshow, and the passion and desire she showed for it was truly breathtaking.
I can't go without mentioning that I saw razor blades pulled from a place that razor blades ought to not be. The confusion of whether it was provocative or horrifying was a delicious moment to remember from the night, and still has me questioning, What did I just see? Did she REALLY just do that?!?
In a show that includes dazzling LED hoop dances, gravity-defying trapeze, a sinister looking bed of nails, and an angle grinder which terrifies the front row with each shower of sparks, Seven Sins of Sideshow Femmes stands out from the swathe of burlesque shows on offer at Fringe with their incomparable sideshow skills. Leave the olds at home, because this show is not for them – you'll need a sharp pair of eyes, a strong stomach, and a wicked sense of humour to enjoy it. Take a walk on the wild side, but maybe wait to have dinner until afterward. A spellbinding display of inventiveness and creation, invite all your friends – you'll have a lot to talk about when it's finished.
Seven Sins of Sideshow Femmes runs until Sunday 5 February at Fringe World Festival.
Kiera (they/them) is a passionate arts creator and consumer, especially in the fields of cabaret and burlesque. Combining 20+ years of arts experience with numerous research and education-based qualifications, they enjoy sharing their knowledge and experiences.
---

You can support our work by subscribing to our Patreon
or contributing to our GoFundMe campaign.