Review | Valerie Savage has your Valentine's plans if you don't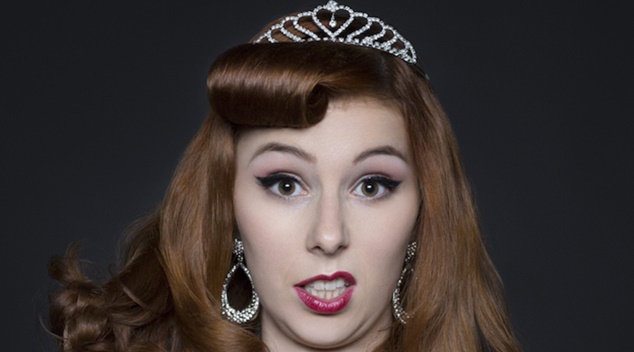 Valerie Savage Doesn't Understand Love | Connections Nightclub
til Feb 14th | ★ ★ ★  
There's something deeply ironic about going alone to a show called Valerie Savage Doesn't Understand Love. It didn't help that I was staring down the barrel of another Valentine's Day where the only person I would be 'seeing' was my psychologist.
But I pulled myself together, went to Connections and bought myself a drink that said "I AM DEFINITELY OK WITH BEING ALONE, STOP ASKING MUM"
Valerie Savage Doesn't Understand Love opened with a smooth jazz number, set with smoke machines and everything, that cleverly played on how much Valerie is "over love". I didn't actually realise until halfway through that Valerie had written the songs herself – a testament to how well they were written and produced. Valerie is a seasoned singer and her voice is fantastic, especially as she relaxed into the show.
After the opening number we were informed that this show was a form of "free therapy" to help Valerie become more ok with being vulnerable – though, as Valerie points out, fringe shows are very much not free so it was actually very expensive therapy.
As was promised, the show was very #relatable content (it may have helped that Valerie Savage is also a depressed bisexual). Valerie took us through a self-deprecating journey of stories about men who over-estimate their 'abilities', people who start talking to you on the street and how to answer the question of "what really is love anyway?".
But just like the sexual encounters she described in the show – I was left wanting more from Valerie Savage. The songs she has written are lyrically and musically rich and with a bit more energy behind them could have given the audience a lot more.
Even a moment where a drag queen friend of hers literally tapped danced on stage while she managed a costume change, didn't feel nearly as camp as it should have been.
What Valerie Savage is though is brutally honest. Love is not like a cabaret show, it is awkward conversations and sexual encounters or as Valerie puts it "like this clusterfuck of disco balls – multifaceted".
The show was also aided by some fantastic lighting and costume choices, though I'll say it again; Connections needs to sort out the back-lights that shine directly into the audience's eyes.
I would recommend Valerie Savage to anyone who has ever gotten bitter about their mutual friends liking their ex's photos, or has wondered exactly what love was. Anyone who is spending this Valentines Day wondering what the hell all the fuss is about with "feelings" and "functional relationships". If you also don't quite get it, this show is for you.
Valerie Savage has two more shows, ending on February 14th. For tickets and more info head to fringeworld.com.au
Charlotte Glance
---
Support OUTinPerth
Thanks for reading OUTinPerth. We can only create LGBTIQA+ focused media with your help.
If you can help support our work, please consider assisting us through a one-off contribution to our GoFundMe campaign, or a regular contribution through our Patreon appeal.