Extreme right wing protesters make hilarious sign error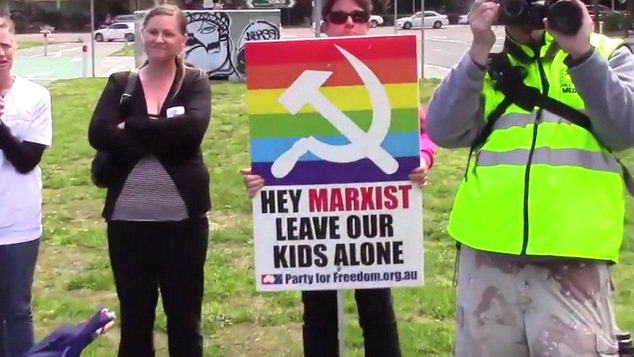 Last week saw a protest in Canberra against the Safe Schools Coalition anti-bullying program.
Protesters from the far right group 'Party for Freedom' held signs reading "Straight Lives Matter" and "Hey Marxist Leave Our Kids Alone".
One placard featured an image of a rainbow noose and the wording "Pedophile Scum, Off Our Streets", while another called for their ideological opponents to be euthanised.

The images quickly spread on social media with many people questioning if the messages being displayed were genuine. Concern was raised about how younger LGBTIQ people would feel when they saw the images.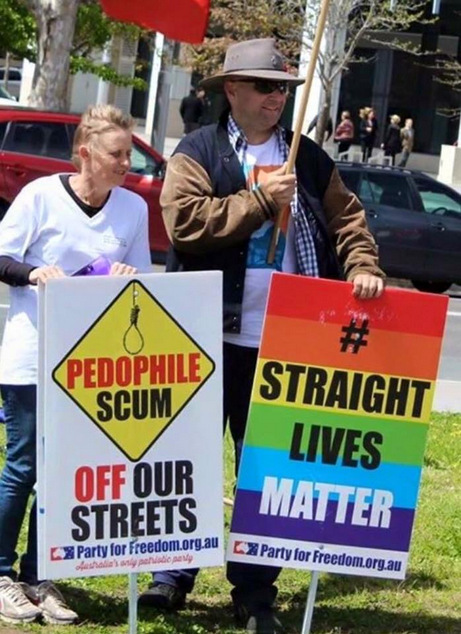 We went to find out more about this group and typed in the web address featured on the base of their signs – freedom.org.au
We got a surprise when we ended up looking at a website we were very familiar with – The Freedom Centre.
Yes, due to the group's odd decision to put spaces in their web address, they accidentally send people to a website filled with helpful information about being young and LGBTIQ+.
The Freedom Centre also coordinates the Safe Schools Coalition program in Western Australia and the site is loaded with factual information about the reality of the program.
The real Party for Freedom website outlines the group's opposition to immigration, foreign nationals buying property, the cost of overseas aid, alongside calls for prisons to be made harsher and the Human Rights Commission to be abolished.
The group's genuine site also features a wide variety of protest posters that they encourage supporters to download and print out. They all include the spacing feature which makes it look like their website is Western Australia's LGBTIQ youth support organisation.
Back in August the group made nation headlines when they interrupted a church service in Gosford by rushing into the church while dressed in Muslim garb.
The group also posted videos of their protest to YouTube, including one featuring a speaker who struggles to pronounce the word "androgyny".
Not to worry here's a Garbage song to help you help with understanding the concept.
Watch the groups video where they make fun of the Alphabet soup. 
The Party for Freedom was contacted for comment.