Ross Cameron apologises for rant about the Commonwealth Bank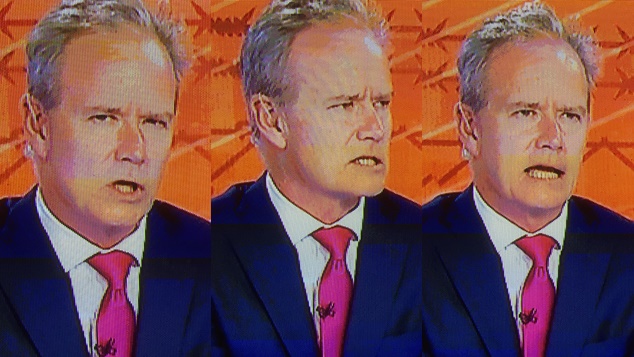 Sky News presenter Ross Cameron has offered an apology to the Commonwealth Bank and its CEO Matt Comyn after he accused the bank of "lefty lunacy" and suggested they were potentially guilty of sexually harassing future employees by asking them questions about their sexuality and gender.
Cameron was appearing on his regular Sky News program Outsiders, which he co-hosts with Rowan Dean – the editor of The Spectator magazine.
The pair highlighted that the Commonwealth Bank asks potential employees questions about their sexuality and gender as part of their recruitment process.
Rowan Dean introduced the duo's regular "lefty lunacy" segment and said the bank were asking people who applied for jobs if they were male, female, transgender, no gender or gender fluid.
"This is the Commonwealth Bank who hopes people will put their money with them," said Dean, "Well I'd certainly think twice about putting my money with an organisation where they are so desperate to signal their virtue that even at applying for a job you have to go through the while gender diversity rubbish."
Ross Cameron responded saying he was concerned that if he sent his son for a casual job at the bank he would first be asked questions about whether he liked guys or girls.
"I'd just ask the CEO of the Commonwealth Bank, if the the very first question you ask someone who wants a job at the Commonwealth Bank is 'Do you like guys or girls?' it's getting a bit close to sexual harrasment.
Cameron said the bank's CEO should focus on corruption in the organisation, delivering value to shareholders, and service to customers, rather than asking young prospective employees about their sexuality.
During the segment Cameron and Dean appeared to get confused about the difference between gender and sexuality.
The only problem is the diversity questionnaire which is part of the Commonwealth Bank's recruitment process is completely optional and clearly states it has no effect on their recruitment process.
Here's what the text at the top of the web page that Sky News highlighted reads,
At the Commonwealth Bank Group we value respect and leverage the unique contributions of people with diverse backgrounds, experiences and perspectives. This focus helps us provide exceptional customer service to our equally diverse community.

We are striving to create an inclusive culture where everyone belongs because of their uniqueness – a place where "you can be you" to do the best you can every day to achieve our vision.

We value the individuality, needs, different perspectives and ambitions of our people regardless of gender, age, marital or parental status, cultural identity, religion, sexual orientation or disability. To help us better understand the diversity of our applicants we would like to ask you some questions. Your answers will be used for diversity reporting purposes, which will help us drive continuous improvement and assist us to grow a diverse workforce that better reflects the communities we serve.

The questions in our diversity survey are optional and if answered will not be viewable on your application form or form any part of the recruitment process.
The opt-in survey offers candidates the option of describing their gender as male, female, gender neutral, intersex, or transgender, alongside an option to give no response at all.
The survey also asks for information about sexuality, giving options of including heterosexual, gay, bisexual and pansexual, also alongside an option to give no response.
There are also questions about ethnicity, ancestry and disability.
Shortly after the comments aired Cameron took to Twitter to offer an apology, however he describes the bank as not asking for information on sexuality – when they actually were, albeit the information was not connected to the selection process.
Cameron and Dean finished off their show with a second example of how they don't understand the difference between sexuality and gender.
Rowan Dean highlighted an article in the Daily Mail which focused on a transgender woman who spoke about her realisation that while she identified as a woman, she was also attracted to women, not men.
Jolene Dawson, 21, who lives on the Gold Coast told the newspaper that they had come out three times to their family, first as a gay man, secondly as a transgender woman, and finally as a transgender lesbian.
"This is a transgender woman/man, born a man, she's changed her mind – what a surprise." Dean said, before describing the female identifying Dawson as both 'he' and she'. Dean said Dawson was "trapped inside a lesbian's body".
Last year Cameron was criticised over comments he made at a fundraiser for conservative group The Q Society.  In his speech Cameron referred to the Sydney Morning Herald as the "Sydney Morning Homosexual" but later defended the comment saying it was not an insult to gay people, but an insult to the newspaper.
The Outsiders program was originally presented by Cameron and Dean alongside former Labor leader Mark Latham. Latham was sacked by Sky News after he made inappropriate comments questioning a Sydney school boys sexuality. Lathan has gone on to present his own show Mark Latham's Outsiders on the internet.
OIP Staff
---