Review | Fall in love with Rouge: A queer variety extravaganza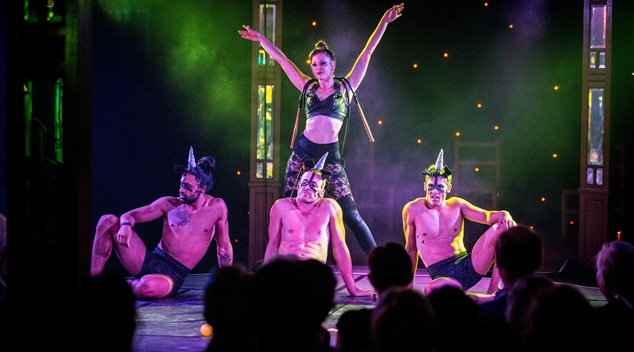 Rouge | The West Australian Spiegeltent | til 10th Feb | ★ ★ ★ ★ ★ 
Lights dim. A single spotlight focuses on the far corner of the glorious West Australian Spiegeltent. "Ladies, gentlemen and our friends beyond the binary – Welcome to Rouge!"
What followed was a regrettable 70 minutes. Why regrettable you ask? Well because 70 minutes was nowhere near the amount of time I wanted to spend in this psycho-sexual wonderland. We may only be halfway through Fringe World, but I am afraid that Rouge has pretty much ruined every show I have ever seen/will see until the day I die.
Billed as circus for grown-ups, Rouge is really your classic boy meets girl, girl meets girl, girl meets non-binary folk, non-binary folk meets boy, boy meets boy tale. The acrobatics are pure raw power with a dash of playfulness, the opera is spellbinding and could stand alone as a single show (The Red Diva has a skirt of many secrets), the burlesque is always tongue-in-cheek and there is not a single moment of lag the show.
It is almost impossible to pick standout acts without recounting every single moment of the evening but let's just say that I do love me some human dressage so that was a personal highlight. Expect to be turned on by lamps, tap your foot for the entire show, laugh yourself stupid, scream until it hurts and witness a powerful and erotic contemporary dance/rope routine that will leave the entire audience captivated.
One of my most favourite things to do during Fringe is to locate the audience members who are most challenged by the show. There was a group of slightly older folks in the front row whose tiny minds nearly exploded. You could map their journey from awe, to fear, to admiration and right back to fear again. It seemed like that they didn't know whether to tear their clothes off and take to the stage or to run directly for the nearest exit. Rouge was doing something right.
Rouge plays with sex, sexuality, gender and relationships and pushes boundaries way beyond the physical feats shown on stage. What really made this show stand out though was the pure, unadulterated joy that came from every single performer. The genuine love they felt for their craft, their show and one another was emanating from the stage and boy was it was infectious. You couldn't help but fall in love. In my mind they all live together in a giant rainbow bus and travel the world. The reality is probably that they know they have created a freaking sensational show, they are (rightly) phenomenally proud of it and thrilled to share it with all us lucky folks.
Come have a kiki with Rouge. That's an order!
Rouge will be the West Australian Spiegeltent until Sunday 10th February. Tickets and more information available from fringeworld.com.au
Bella Broadway
Image:- David Power