School suggests trans students should wear identifying armbands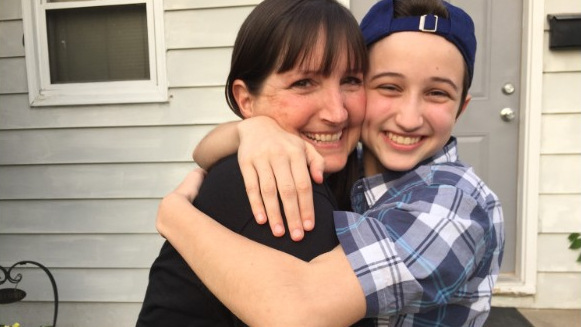 A school student is the USA has filed a lawsuit against his High School over a series of civil rights violations, among the suggestions from his school is a proposal that trans students wear green armbands so staff can check they are using the approved bathroom.
Sixteen year old Ash Whitaker from Wisconsin USA made headlines earlier this year when he successfully lobbied his school to run for Prim King. Initially the school has insisted Whitaker should run for the category of Prom Queen because he was born as a female.
After Whitaker presented his school with a petition filled with 6000 signatures, the school district announced it would now allow students to enter the Prom King and Queen ballot under the gender of their choice.
At the time Whitaker highlighted that his other challenge was a new school policy which insisted students use the bathroom of their birth gender. The school had insisted that the 16 year old use single stall gender neutral bathroom in the office, or the girls restroom on campus.
Now the teenager has launched a law suit against his school over bathroom use and a series of other alleged civil rights violations.  Aided by the Transgender Law Center and Relman, Dane & Colfax PLLC, a civil rights firm based in Washington, D.C the student has highlighted his challenges in bathroom use, daily surveillance by school staff and the threats he has allegedly received from school officials.
Among the items listed in the legal documents is a claim that guidance counselors at the school were instructed to issue Whitaker and other transgender students with bright green arm bands so school staff could easily identify them as transgender.
Whitaker has also complained about staff members repetitively using his birth name and addressing him as the opposite gender. The school is also alleged to have failed to tell substitute teachers about students transgender status.
The school is also alleged to have instructed teachers to closely monitor transgender students to make sure they didn't use the bathrooms of their choice.
The School District has responded to the legal action and counter-claimed that many of the allegations are patently false.
"The District does not have a practice or policy requiring any student to wear a wristband for monitoring any purpose or for any reason whatsoever. The District has worked diligently with transgendered students and their families to address their unique needs and accommodations, including the family named in the suit." the School District said in a statement.
---

Tags: Ash Whitaker, bathroom, bullying, civial rights, discrimination, human rights, trans*, transgender, Transgender Law Center, wisconsin