Do we need to talk about becoming screenaholics?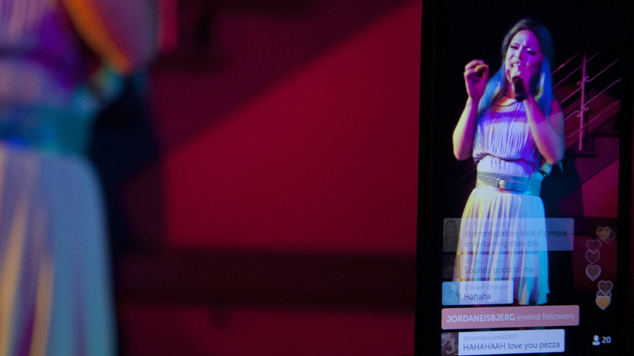 Are we so busy looking at our mobile phone screens and glued to the latest developments on social media that we've lost all perspective on what's right in front of us?
Sitting at Kylie Minogue's recent Perth concert the woman next to me is carefully recording the whole show on her mobile phone. She mumbles when the guy sitting in front us begins waving his hands in the hair, his flailing arms have ruined her shot.
Do people really go home and re-watch the show on their iPhone? I mean you can buy the DVD in the foyer on the way out. Plus we weren't in the front row, we were more than halfway up the first seated block, we certainly could not see the whites of Kylie's eyes.
Last year at Anthony Callea's 'George Michael' show I was stunned when at one of the most poignant moments of the show an audience member took out their iPad to film the show. iPad, not iPhone – I think it was a4 sized. Callea had sat on a stool at the front of the stage and was about to launch into a tender ballad, when the audience member appeared at his feet to film the moment.
Sitting in one of Perth's funkiest new restaurants a table full of hipsters occupy the next table, all six of them are looking at their phones, I wonder if they are texting each other? Are they locked in a multi-player Scrabble game?
I'm not immune to screen addiction, there's nothing I love more than to sit at home on a Monday night watching Q&A on one laptop, while following the show's Twitter hashtag feed on my other laptop, my iphone primed if I want to add my own comment (you got to be fast to get it on the Q&A screen ticker. Often in the background I have SKY news playing on the TV.
The newest craze on social media is Periscope, the live steaming app that allows you to broadcast from wherever you are. Periscope is very interactive, you can comment on the feeds you're watching and show your support by repetitively tapping the screen (visually this will send a flood of love hearts to the person filming).
Watching an amateur drag performance recently I noticed that the show was being broadcast on Periscope, but was more alarming was that some of the audience we watching the live stream on their phones – instead of the show that was directly in front of them.
The next day there was a heated online discussion about people making snide comments on Periscope about the performers. When did we all become so critical? Is it Tony Jones fault, maybe RuPaul is to blame, or Simon Cowell – everyone is so judgmental.
Maybe in the future only two people will need to go out. One to perform, one to hold the phone – everyone else can stay home, pretend to be Judge Judy and just write comments.
Graeme Watson looks forward to your trolling.