Should Fairday Be Split Into Two Events?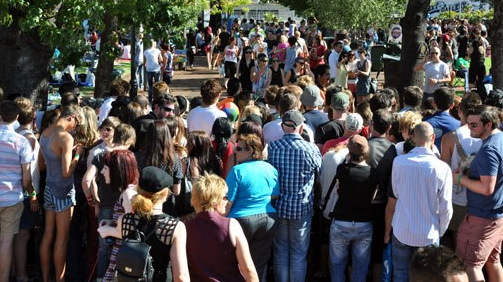 Pride WA has announced their committee positions for the year ahead and given further information on the strategic review of the organisation and its key events including a suggestion that the popular Fairday may be split into two separate events.
New Co-Presidents Daniel Smith and Michelle Rigg appeared on the RTRFM program 'All Things Queer' on Monday March 19 and outlined the focus for the committee for the next two years would be a strategic review targeting the sustainability of the organisation and ensuring it's program of events meets community needs.
Newly elected Female Co-President Michelle Rigg explained, "Our focus this year is really  setting it really up the pride committee to go forward so it's sustainable and manageable and so it doesn't take as much time for volunteers as much as it has in the past, we're setting up a sustainable structure."
Male Co-President Daniel Smith added, "We have to be honest with ourselves, I think as an organisation Pride has to face the truth about what it does and essentially Pride's been running the same calendar of events for twenty years, now the community has changed and awful lot and Pride hasn't changed with it."

Smith promised the organisation's review of their events would take in the whole LGBT community, not just the "ten percent who live in the inner city."
Smith said there would be some big changes and highlighted the annual Fairday is one event that doesn't work in it's current format.
"Fairday at the moment tries to be two events. We've got one half of the Russell Square which tries to be a community fair where people can be comfortable bringing their kids and the other half is like a serious 'swim through'…essentially the two events aren't working, both events are constrained by the other."
Alongside Rigg and Smith as Co-Presidents, Marcus Remta was elected Secretary, with Jeff McDonald elected as Treasurer while Graham Lovelock was appointed to lead the strategic review process.
Listen to the whole episode of All Things Queer here, the interview with Daniel and Michelle is at the start of the program.
OIP Staff, updated March 19th 2;47pm – hyperlinks added, alternate image utilised.