By Our Side: Safe Schools advocate Jack Garber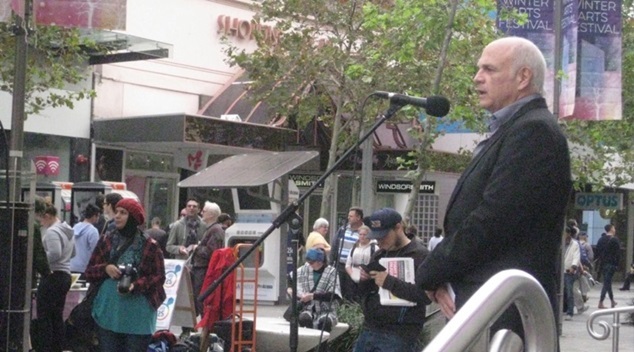 Jack Garber is a state councilor for Western Australian Council of State School Organisations (WACSSO). He has trained as lawyer, he's a father, and the chairperson of two independent schools in The South Swan district.
Significantly; Jack lobbied for and secured endorsement of the Safe School Coalition from WACSSO when funding was made available to WA Schools.
I met Jack at a Save Safe Schools planning meeting where we were notably the oldest people in the room. In a world where grumpy old white men seem intent on letting young LGBTI students fall through the cracks in our school system I have found a friend who confounds assumptions and is a passionate straight ally.
Tell me about the first LGBTI person you met.
My mum's hairdresser was a bodybuilder and I was a skinny 13 year old who wanted to put on some muscle. My mum organised for me to go and spend the summer living with him and his partner. We were three men sharing a house and working out together. It was a great summer. I grew up around gay men and women. Considering how long ago that was you could say it was pretty extraordinary. For me this was my normal.
How did you become involved with WACSSO?
I joined my children's Parents and Citizens group when they started school. Parents have a very important role to play in creating and developing the culture of a school. They can be a powerful force for good in the community.
If you are a same sex couple with children or you have a child who is LGBTI then you owe it to your kids to be on the P&C. WACSSO supports such groups with advice and resources to grow healthy safe schools.
You have a son who is gay. What was school like for him?
It was a very good experience until he came out in year 11. He was part of a group of boys who were lucky enough to qualify for a special program where they learned to fly. It was a very tight knit group. All that fell apart when he came out. He wasn't beaten up. He was frozen out of the group.
These were boys he had spent all high school hanging out with. He couldn't sit with the group. They refused to talk to him. And because of his previous status there were no other groups willing to let him in.
It was disastrous for his schooling. He became anxious, depressed and there were attempts to end his life. Somehow we made it through and he is doing well now. I am very proud of him.
Is that why you are so passionate about Safe Schools?
Yes. The school leadership really didn't have the resources or experience to deal with this kind of bullying. Safe schools provides professional development for teachers that would have helped them understand what was happening to my son and to the other boys in the group.
Homophobic bullying affects not just the victims but every other boy in the school. The whole school is less safe.
You lobbied for WACSSO to endorse Safe Schools. How hard was it to convince people to support the program?
It was easy once people actually looked at the resources for themselves and stopped listening to the media beat up that put the ACL and people like George Christenson on the front page. Still it was a struggle. We succeeded with a narrow margin of support.
How can parents advocate to have Safe Schools in their local school?
First; they have to be involved in the school P&C. Unless you are involved you don't have a voice. Second; you need to educate yourself about the program so you can counter the rhetoric of people like Peter Abetz who is currently running forums and spreading misinformation to parents in WA.
Finally; we need to be persistent in our advocacy. Parents and citizens working together are powerful influencers. If you aren't a parent but you are a past student you will be welcome to join your P&C group. Many people faced bullying at school. Your story is important. You can make it better for students at your old school by speaking up and supporting leadership to care for other students who are LGBTI in school.
Charlie Perth
---
Update: 4-01-2017 11:30 am – This article was updated to improve accuracy.
Additional information was added to clarify that Mr Garber is not currently a lawyer in Western Australia. He is a former US lawyer, and recently completed the education requirements for a Western Australia practicing certificate, however he is not a lawyer at this time. 
Secondly, the article previously stated Mr Garber had been the President of two Parents and Citizen's Associations of Western Australian Schools. This was incorrect. Mr Garber is the Chairman of two independent schools, a primary school and a secondary school. While he is also involved in the P&C groups, he has not held the position of President. 
OUTinPerth offers a sincere apology to Mr Garber for the error.