Review | 'Sophie's Slumber Party' offers wholesome, infectious fun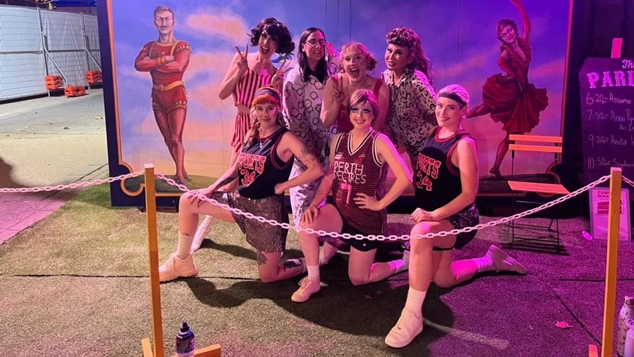 Sophie's Slumber Party | The Parlour @ Perth Cultural Centre | ★ ★ ★ ★ 
I have to admit that owing to the fact of having testicles, I was always excluded from ever being invited to a slumber party.
Have no fear, the new dawn has arrived and finally we got to share and laugh our heads off along with last night's crowd at the premiere of Sophie Slumber Party.
The opening mime number was Delta Goodrem's Born to Try delivered in perfect lip sync by Sophie Joske as she emerged from a black sleeping bag lying flat on the wooden stage. The effect conveyed of a moth to a butterfly set the tone for what was to follow, and was a bold and experimental start that totally engaged the audience and it worked on every level. A master stroke!
Class acts from other Fringe shows were introduced by Joske that included Chloe the Cocaine, an amazing and tastefully executed burlesque stripper; wonderfully deadpan delivery from standup comedian Nicola Macri dressed in her winter PJs; the energetic and totally adorable Moxie Heart and her two sassy dancers rocked the venue and deservedly received the loudest applause; and the total class and perfect body movements of Ms Veruca Sour, lip sync perfect and with an elegant striptease!
All of these 30-something performers were jewels in their own right, but the night clearly belonged to Sophie Joske, whose microphone technique and comic timing was spot on for a live performance. I have a feeling there will be more great things in the works from this 'femme butterfly' and can't wait to see what evolves, and in what direction her creative dreams will take her next.
I always carefully gauge the audience's reactions and as I scanned the room during the performances, it was clear to me that everyone was onboard and so connected to this intimate theatre piece. I never saw a sad face or a dissatisfied one, which is also endearing for the performers who 'milked that happiness pill to the max!'
Devoid of foul language and minus of those harsh so-called comedic slap downs, this is a show that is impossible not to smile all the way with. Sophie's Slumber Party will change with every show as performers come and go, so every show will be unique and fresh.
Get tickets for next Friday and Saturday. Your efforts will be rewarded with a 50-minute rollicking good time!
Terry Larder is the founder of Club West (1989 – 2015) and in this role over those years was the director/producer/compere/drag performer. He is keen to foster goodwill and nurture new and emerging artists both on-stage and off. He has been a writer for OIP since 2007, and has reviewed numerous shows as well as interviewed and written about Debbie Reynolds, Anthony Callea, James Morrison, Elaine Paige to name but a few. 
---

You can support our work by subscribing to our Patreon
or contributing to our GoFundMe campaign.