Rudd Returns as Prime Minister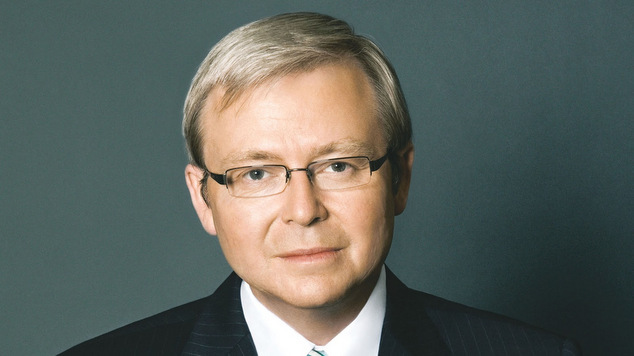 Kevin Rudd is once again Australia's Prime Minister following a showdown with rival Julia Gillard.
Three years and three days after the former Prime Minister was ousted from the position the tables were turned.
Mr Rudd won the position 57 votes to Ms Gillard's 45 votes.
Speaking to the media late on Wednesday evening Mr Rudd said he resumed the role of Prime Minister with "humility, honour and an improved sense of energy and purpose". Mr Rudd said politics had "failed the Australian people" and made a call for young people in particular to give politics renewed attention saying, "please come back and listen afresh."
Mr Rudd praised the outgoing Prime Minister Julia Gillard describing her as, 'a woman of exceptional intelligence, great strength and great energy." Mr Rudd said under MS Gillard's leadership the government had achieved much and that she was a great reformer.
Mr Rudd said opposition leader Tony Abbott was a man "steeped in the power of negative politics" and that the coalition had no positive plan for the country's future."
In response the opposition leader described Mr Rudd as a skilled politician who had orchestrated today's leadership change. Mr Abbott said the Labor party had 'an abundance of good politics but no good government."
Mr Abbott called on the government to confirm that the election would still be on September 14th or sooner saying, 'the public's patience with this parliament is at an end."
"You deserve better, you deserve a strong an stable government." was Mr Abbott's message to voters, arguing that this would only be achieved via an election. Mr Abbott played down suggestions that he would push for a no confidence vote on parliament's final day.
The ABC's political commentator Barrie Cassidy predicted that marriage equality will be one of the first issues the new Prime Minister will talk up giving it's popularity with the wider electorate and that it's an issue that he has a different position than the outgoing Prime Minister. There is no chance however of legislation being passed before the election given the limited time parliament has before rising.
Marriage Equality advocates welcomed the return of Kevin Rudd. Australian Marriage Equality national director, Rodney Croome, said,
"Having a Prime Minister who supports marriage equality opens up a new chapter in the debate because, as we have seen in the US, New Zealand, France and Britain, such high-level leadership is crucial to achieving this reform."
"Kevin Rudd's support for marriage equality will be an important point of difference with Tony Abbott, increasing pressure in Mr Abbott to allow a conscience vote and bringing marriage equality to the centre of the federal election campaign."
The return of Kevin Rudd as Labor leader saw the resignation of several Ministers including Stephen Conroy, Wayne Swan, Joe Ludwig and Greg Combet. While Craig Emmerson andd Peter Garrett announced their resignation and retirement from politics.  Julia Gillard announced earlier in the day that she would also resign from parliament if she was not successful in retaining the leadership.
Following Mr Conroy's resignation South Australian Senator Penny Wong was elected to the position of Leader of the government in the senate. Senator Wong's appointment makes her the first woman and the first openly gay person to hold the role. Anthony Albanese was elected as the new deputy leader.
OIP Staff
 This post is being updated as news comes to hand.