The World According to Joel Creasey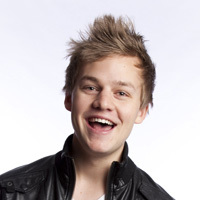 Trouble-making comedian Joel Creasey is heading home to Perth this month with his new show Political Animal: A Beginner's Guide to Becoming Prime Minister. We asked Joel for his take on the top political stories at the moment.
What would you do if you were PM for a day?
Where do I start?! I'd definitely make sure I got all the Twitter and Facebook followers possible, I'd want to capitalise on that straight away. Next up I'd have everyone that was ever mean to me in school beheaded (I'm fairly certain the PM has that sort of power). I'd then want an excuse to use the Prime Ministers private jet so I'd fly to Washington to get a photo with Barack Obama and pick up an In-and-Out Burger. And of course I'd fix global warming and poverty in the down time.
If we don't tax carbon or the miners, what should we tax?
People that shop at Ed Hardy. If we applied a three thousand dollar tax to all Ed Hardy products, none of us will ever have to be visually assaulted by their clothes ever again.
What should the legal drinking age be?
Whatever age I am. I'm currently 21 so I think the legal drinking age should be 21. Although to be honest I think the legal drinking age is fine at 18 but I think it should be area-specific. For example I think the legal drinking age in Northbridge should be 45 and above.
How many white jackets can one girl own?
In Julia Gillard's case it really is a matter of 'how long is a piece of string'?. Julia Gillard should probably be on that show 'Hoarders' to deal with her white jacket obsession. It's ironic because she hates marriage yet with the horrible pant-suits they put her in she always looks like she's an older-bride getting married for the fifth time and couldn't be bothered with finding a dress anymore.
What do you think of our current political leaders?
I think they're all pretty tragic and we as Australians have a very limited choice. Choosing between Julia Gillard and Tony Abbott is like being asked which Olsen twin do you want to do your homework for you – either way you're going to lose. I must admit I don't mind Malcolm Turnbull at times, he's a bit of a silver fox and seems to be one of the most progressive.
WA Labor Leader Eric Ripper recently had a 1 per cent approval rating here – what advice would you give him?
I had no idea his approval rating was THAT low. Frankly, it isn't surprising. I think he needs a makeover, and by makeover I mean he needs a new face and body. Then I think a political scandal might help, perhaps an affair. I think he should change his name too. Eric's fine but Ripper's just plain scary. I think he could put a more cuddly spin on his surname – perhaps Eric Butterflies or Eric Sunshine-Rainbow-Unicorn.
If you could pick any politician, dead or alive, who would you pick to run the country today?
That is SO hard as I have too many favourites. Of course Winston Churchill is number one on my list, I absolutely adore him. However if I had to go with somebody alive I'd probably choose Hilary Clinton – I'm a bit of a mad fan. I went to one of her campaign rallies when I was in LA and screamed like a schoolgirl at a Justin Bieber concert. I also think the work that Mrs Clinton has been doing recently for the gay community has been quite impressive.
Joel Creasy, Political Animal: A Beginners Guide to becoming Prime Minister is at The Metcalfe Playhouse on October 29, 7pm
Benn Dorrington
***