This weekend spend some time with The Illustrious Blacks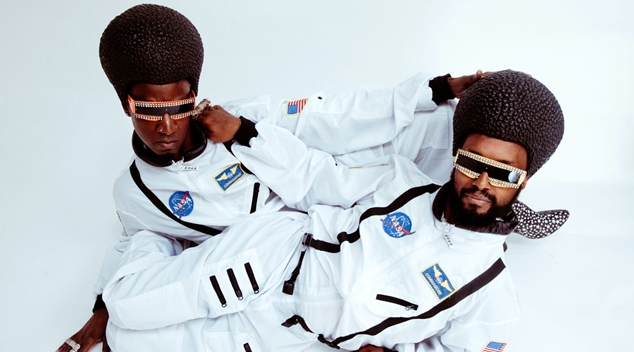 This weekend NYC sensations The Illustrious Blacks are taking over Nevermind Smallclub in Northbridge to bring some serious funk and disco sounds.
The NeoAfroFuturisticPsychedelicSurrealisticHippys are on a mission to save the world one beat at a time.
Here's their story, Once upon a time in a galaxy not far away, there lived two kings. Each was the ruler of his own deliciously glorious planet.
The first king, Manchildblack, was well known throughout the cosmos for his ethereal vocals, celestial sonics and earthy musical messages.
The other king, Monstah Black, was a star in the solar system for his gravity defying performances, gender­ bending fashions and spacey disposition.
One magical night, an inexplicable ultra­magnetic pull forced the two planets to collide. A technicolor explosion occurred, turning night into day, with a feast of aural and visual delights. It was then that the universe was changed forever. Manchildblack and Monstah Black united and became The Illustrious Blacks.
OUTinPerth has a speedy chat with Manchild Black and Monsta Black ahead of their Perth show.
Is Perth the furthest city from NYC that you'll have performed in?
Indeed, it is! We are super grateful to be able to travel to the places we've always dreamed of.
How did your musical collaboration start?
Our very first musical collaboration was the night we met dancing the night away to House Music over two decades ago. That night set the precedent for us being able to create original music together many years later.
Where do you draw inspiration from?
Musically, we're inspired by the sounds of vintage Funk, House, Disco and New Wave from the 70s, 80s and 90s. Thematically, we draw from our own lives and what we believe is needed most of in the world…love.
How should one dress when attending one of your shows?
Dress as if it's the last party of your life!
How would you describe your music and performances to someone who had yet to encounter you? A neo, afrofuturistic, psychedelic, surrealistic good time!
What the secret to an effective collaboration?
A shared vision and lots and lots of patience! Did we mention patience…lol!
Catch MVMNT featuring The Illustrious Blacks at Nevermind Smallclub on Sunday 24th February. Cooper Cooper, Lucky Pete, Fourjak and George Rogers are supporting.
Graeme Watson 
---