TransTastic Talent Showcase opens Pride with a bang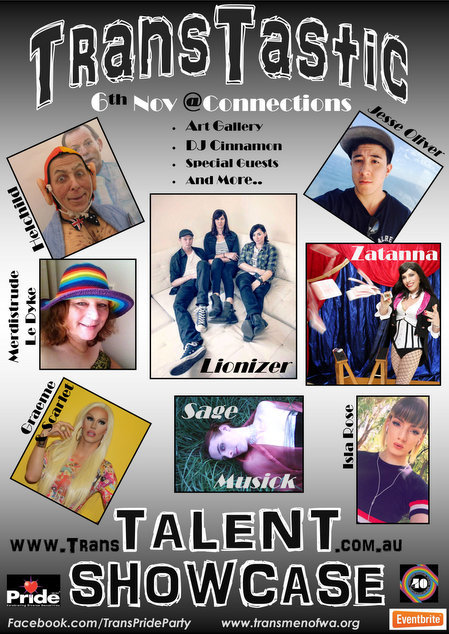 The TransTastic Talent Showcase is set to make its debut this Pride with a stellar line-up of local trans and gender diverse talent to launch this year's celebrations.
Local personality Isla Rose will be hosting the event, which brings art, comedy, music and performance together for a massive evening of entertainment.
The event will open from 7pm, where guests can peruse the work of contemporary artists Asher Stenning and Lex Randolph, as well as mixed media works from Laura/Remus and Levi Halpern. The artists will be available on the terrace from 8pm to discuss their pieces.
Experimental musician Sage will take the stage from 8pm for a very unique performance. Sage draws on a wide range of influences including Inuit throat singing, Shamanism, Tuvan and Mongolian overtone singing and Dadaism which will make for an eclectic performance to remember.
Crazy cat lady Merdistude Le Dyke, comedian Helchild and some surprise special guests will make appearances throughout the evening for some spots that are sure to have the audience in stitches.
Slam poet Jesse Oliver, who is due to feature at this year's National Youth Writers Festival, will be reciting some of his work. Dancers Graeme and Scarlet will light up the stage with a contemporary dance routine, and Zatanna The Enchantress will enchant audiences and show you why she's just made waves with Chinese and Japanese audiences.
Local band Lionizer are set to round up the showcase with their '90s punk sound, with DJ Cinnamon on the decks to keep the party going into the night.
Head down early for canapes and champagne and celebrate local talent, diversity and support the community.
The TransTastic Talent Showcase will be held at Connections Nightclub on Friday 6th November. Tickets available online from Eventbrite and check out the Facebook page for a sneak peek of some of the talent.