ARIAs: Troye Sivan wins and marriage equality takes centre stage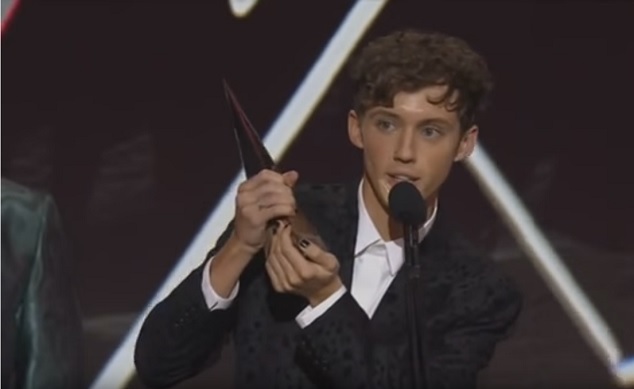 LGBTIQ+ visibility has never been higher at Australia's most prestigious music awards as The Veronicas blew everyone away, marriage equality campaigners shone on the stage and Troye Sivan took out one of the most coveted trophies of the night.
Perth's very own Troye Sivan was awarded Song Of The Year for his single Youth by UK superstar Robbie Williams. The 21-year-old dedicated his award to "every gay Australian kid who wants to make music, you can do it and win an ARIA too."
Backstage Sivan was less confident, telling media that being an out gay performer "freaks him out sometimes".
"It's a lot of pressure. It would be irresponsible of me to not do my best to embrace it as much as I can," Sivan said.
"I've been so blessed to have such an amazing platform to talk to so many people and I'm going to use it every single second to talk about the things that I think are really important, and fight for the causes that I think are important."
Sivan was not the only queer performer to take to the stage that evening, with The Veronicas emerging covered in little more than red glitter to perform their single, In My Blood.
Sia also received an award, receiving the ARIA for Best Female Artist. The Adelaide-born artist had marriage equality campaigner and CEO of Standup Events Angie Green accept the award on her behalf.
Green, who appeared in a Say I Do Down Under campaign tee (as did Kylie Minogue and her fiancé and campaign founder Joshua Sasse as they introduced Sivan), took to the podium to represent Australian Marriage Equality.
"This award is for every single non-hetero and gender diverse person who can currently not marry the person they love in this country," Green said on stage.
"This award is for our friends and family, our work friends and all our mates," she continued, becoming visibly emotional.
"The bottom line is, Australia, that no one's lives and the people that they love should be up for debate. You have the opportunity now not to just do a great thing, but do the right thing."
"I'm very proudly an ambassador for marriage equality and on behalf of these guys I cannot thank Sia enough, you are an absolute boss and thank you so much for using this platform to send such a powerful and important and crucial message."
OIP Staff