View Street Medical are here for Perth's LGBTIQ+ community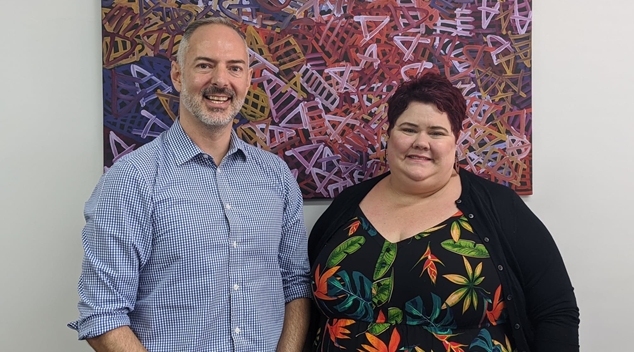 For many LGBTIQ+ people, a simple routine trip to the GP can be an anxiety inducing experience.
Each of us have our own unique set of circumstances that may require medical attention, and it can be incredibly difficult to find the right doctor or specialist that can offer the best treatment for the issue at hand.
Two doctors from North Perth's View Street Medical, Samantha Maisey and Craig Shaw, sat down for a chat with OUTinPerth to let the local LGBTIQ+ community know that they can feel safe, respected and understood at their clinic.
"I think generally speaking we're a very accepting non-judgmental group of practitioners, and that includes all of our staff here," Dr Shaw said.
"We encourage a diverse population of patients, we're all very used to dealing with people from all sorts of backgrounds, but especially the queer population ."
"A lot of us have first-hand experience dealing with people from an LGBTIQ+ background and we are all good with what's important to LGBTIQ+ people as well."
"We're all very good with sexual health, mental health, we've all got a bit of experience for drug and alcohol issues as well."
"But I think the main thing is that we're all laid back and non-judgmental really easy-going and accepting."
"All of our staff have had training with regards to gender issues and so we hope that anyone who has any gender dysphoria, or is transgender or non-binary, would feel comfortable to come into a place like this."
"We have a little bit of more knowledge than your average general practice and we really want to encourage people to feel safe and protected and that they can come here for non-judgmental treatment."
A laid-back attitude may not be the first thing you consider when seeking out a new GP, but for many LGBTIQ+ people, feeling comfortable from the moment you reach out to book an appointment can be a major concern.
"We've had training from the reception level through to the clinical staff working on issues around pronouns and not assuming gender of partners and things along those lines," Dr Maisey explains.
"We try to walk the balance between what has to be done legally with Medicare and and being sensitive."
"I've been really quite impressed with how people here who don't necessarily have first hand experience with the LGBTIQ+ community have been willing to learn and ask and listen."
Practice Manager Mary-Ann adds that the front desk staff do not assume anybody's pronouns.
"We don't refer to people as him/her etc… We use people's names because it makes people more welcomed and more comfortable," Mary-Ann said.
"They're having a personal service rather than just coming in and out as a customer or client."
Drs Maisey and Shaw also highlighted that many of the GPs at View Street Medical have experience and training in working with transgender, gender diverse and non-binary patients.
"Dr Wozencroft and I are involved in the Perth Gender Network as well," Dr Maisey adds.
"We get along to meetings there as often as we can to further our education."
Many of View Street's practitioners are also aware of the many intersections between LGBTIQ+ people and other communities that may need understanding and specialised care.
"Dr. Wozencroft and I have both worked in rural areas. Dr Wozencroft particularly has worked in Aboriginal communities and worked in homeless healthcare," Dr Maisey said.
"I've worked in Fremantle where I've seen a lot of homeless and transient populations coming through the practice. It's about experience."
Another area where LGBTIQ+ people may be looking for understanding is mental health, and Dr Shaw says View Street is absolutely prepared to assist those queer folks who are looking for mental health support.
"That's particularly where I think it's good for patients to feel safe and be able to explore the things that are really concerning them and I think that's really where it's important for them to have a good rapport and feel at ease with the practitioner that they're with," Dr Shaw said.
"There's a different slant on things when it comes to queer issues. There needs to be that separate sort of understanding there are different issues that can affect people's mental health."
Dr Maisey adds that the team have worked hard to collate a database of specialists and referrals that they know understand what the LGBTIQ+ community need from their care.
"We've got a good database of those specialists so we're not sending you off to somebody who is going to be insensitive, it's someone we know is going to be appropriate."
The clinic is also equipped to deal with the sexual health needs of trans and gender diverse folks, as well those who are seeking PrEP or HIV treatment.
"We have four S100 prescribers in this practice. We're all trained in HIV medicine, management, monitoring, diagnosis… and we're all PrEP prescribers as well," Dr Shaw said.
"We definitely want to encourage people to have their PrEP monitored and managed properly so coming to an experienced practitioner would definitely be a good idea."
Dr Maisey adds that the GPs are all eager to make sure they ask the right questions.
"We don't make assumptions in terms of sexual practices so we can make sure that people get the right tests for what they need to be checked for. "
View Street Medical has four GPs who are across LGBTIQ+ issues, making sure potential visitors can always get an appointment with someone who will offer the right kind of care.
"Dr Shaw, myself, Dr Wozencroft and Dr. Chaney, who is here a bit less often, are the S100 prescribers and PrEP prescribers so we encourage people to come and see one of us for for those particular issues," Dr Maisey said.
"We also do in-house treatment," Dr Shaw adds.
"Sometimes people have to go elsewhere to be treated in practice, whereas we can do everything while the patient is here, including testing. "
"That does make it more convenient so people don't have to go elsewhere to have other sensitive testing done. We will do everything in house and treat them when appropriate as well."
The team also acknowledge that LGBTIQ+ issues are constantly evolving and emerging, and want to hear how they can improve services in the future.
"We're really open to feedback," Dr Maisey said.
"If somebody does think that something or somebody has been a little insensitive, or they're inappropriate, we want to hear about it so we can make changes."
View Street Medical Practice is at 16 View Street, North Perth. Get in touch on 9227 0170.
Sponsored Content
---