WA Ballet's 'Don Quixote' is romantic and filled with fun
The WA Ballet's production of Don Quixote perfectly balances a sense of fun with great moments of romance and drama.
This marvelous production has been choreographed by the magnificent Lucette Aldous, who has overseen this production based on the original choreography of Maruis Petitpa.
For Aldous, this one of the works the great ballerina and esteemed teacher is most associated with, having starred opposite Rudolph Nureyev in the Australian Ballet's iconic film production in the 1970s.
Miguel de Cervantes Saavedra's 15th century tale is a great story for the world of ballet, with heroes and villains, challenged lovers and high drama. It's a production that packs in all the iconic moments you want in a ballet; tutus, great leaps, endless pirouettes, romantic pas de duex.
On opening night, Chihiro Momura and Gakuro Matsui excel in their portrayal of love struck couple Kitri and Basilo who just want to together, despite Basilo's father's desire for her to marry a more wealthy suitor.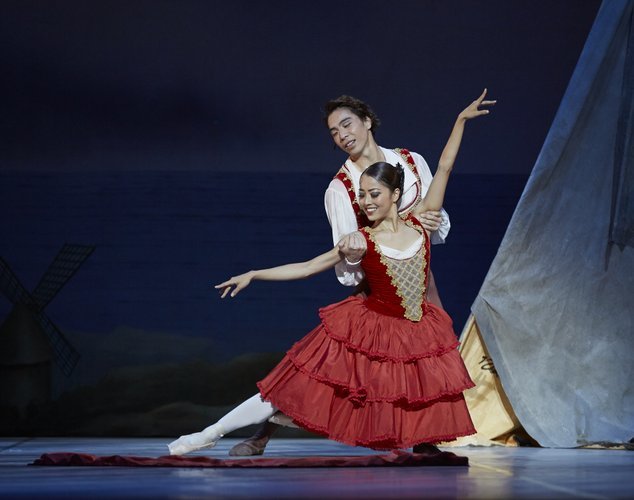 Christian Luck delivers an admirable performance as the confused title character Don Quixote, who stumbles through the tale, battling windmills he's mistaken as monsters.
Andre Santos steals the show as the rich foppish suitor Gamache who is favoured by Kitri's father. From the moment he makes his grand entrance Santos has the opening night audience in stitches. This role allowed Santos to remind us that he's not only a great dancer, but a natural comic as well.
Oscar Valdes is striking as the lead gypsy, a captivating and powerful performance.
Backed by the phenomenal West Australian Symphony Orchestra under the leadership of conductor Judith Yan, Don Quixote is an evening of romance, comedy and spectacle.
The production has alternating casts with the dancers taking turns at the major roles.
Don Quixote is playing at His Majesty's Theatre until May 27th, Tickets available from Ticketek.
Image: Gakuro Matsui and Chihiro Nomura in Don Quixote. Photo by Sergey Pevnev