WAAPA lifts off with first dance season for 2019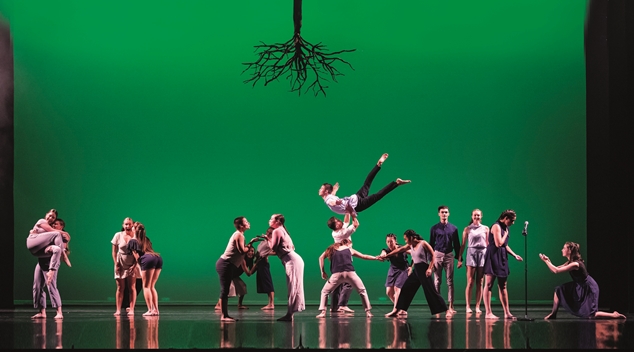 Rise, WAAPA's first dance season for 2019, lifts off with four new contemporary and neo-classical dance works created by visiting international choreographer Sasha Janes, Melbourne-based dancer/choreographer Lauren Langlois, and well-known local artists Claudia Alessi and Kim McCarthy.
Rise will be performed by WAAPA's 2nd and 3rd Year Dance students in the Geoff Gibbs Theatre from Saturday, 4 May through to Friday, 10 May at 7.30pm.
WAAPA welcomes the US-based dancer and choreographer Sasha Janes back to his hometown of Perth for Rise, thanks to the generous support of the Minderoo Foundation as part of WAAPA's Visiting Artist Program.
Janes, who trained at the Australian Ballet School, has worked with the Charlotte Ballet in North Carolina since 2003, for eight seasons as principal dancer and for the last decade as the company's Resident Choreographer. Described by The Washington Post as 'a choreographer to watch', Janes is also Associate Professor of Ballet at the Indiana University Ballet Department, and the Artistic Adviser and Director of Contemporary Studies at Chautauqua Institution in New York.
Award-winning dancer and emerging choreographer Lauren Langlois joins the Rise season from Melbourne. Winner of the prestigious Tanja Liedtke Fellowship in 2017 and a Green Room Award for Best Female Dancer in 2015, Langlois has worked with top Australian dance companies and choreographers including Anouk van Dijk at Chunky Move, Australian Dance Theatre, Sydney Dance Company, Force Majeure, Lucy Guerin Inc and Stephanie Lake Company, among many others.
The third new work on the Rise season, Holding on to Fall, is being choreographed by local dance legend Claudia Alessi on WAAPA's 2nd Year Bachelor of Arts Dance students.
"Falling can be described as the physical action of movement due to gravity. Searching a little deeper however, we see how falling is intrinsically related to holding on and suspension," explains Alessi, who brings nearly three decades of expertise as a dancer, choreographer, artistic director, producer and educator to her work at WAAPA.
"This piece explores how we hold onto many things that affect us both positively and negatively. Change is never easy and we are told one of the hardest lessons is letting go. We fight to hold on and we fight to let go in order to fall into the abyss of the unknown."
Rounding out the Rise program is a new dance piece from WAAPA's Classical Dance Coordinator, Kim McCarthy. Before joining WAAPA, McCarthy enjoyed an international career as soloist with the Hamburg Ballet under the direction of John Neumeier, and principal dancer with the Compañía Nacional de Danza under famed Spanish modern ballet dancer and choreographer, Nacho Duato.
Rise will be at the Geoff Gibbs Theatre at ECU from Saturday 4th til Friday 10th May. For tickets and more information head to WAAPA.ecu.edu.au
Source:- Media release
---