Work begins on the foundations of Victoria's new Pride Centre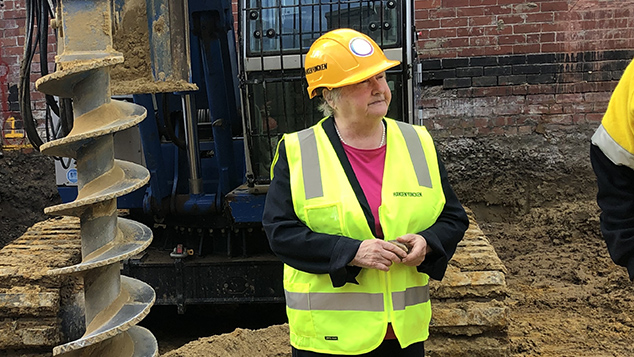 Work on Victoria's new Pride centre is progressing with work on the centre's foundations well underway.
"The start of foundation works cements our future as part of a progressive, vibrant and diverse Victoria" said Jude Munro AO, Chair of the Victorian Pride Centre.
While viewing the site of Australia's first LGBTIQ Pride Centre, Munro was excited by the progress made since demolition was completed in May 2019.
Work has commenced on installing the 120 piles around the perimeter of the building to support 6000 square metres of LGBTIQ focused services, office, coworking, social and event spaces. The new building will include a functional rooftop space with views over the city and Port Phillip Bay.
"The rooftop will be a perfect spot for staff from LGBTIQ organisations housed in the Pride Centre to grab lunch and connect. We are also looking forward to hosting our first same-sex marriage, once the Pride Centre opens in 2020", Munro said in a media release.
During June, bulk excavations and retention works will be undertaken, forming the foundations of the basement level of the Victorian Pride Centre. The basement will house bike racks, public, visitor and tenant car parking.
The design of the basement has been developed in line with the VPC's Green Travel Plan. The Plan aims to reduce the environmental impact of the Victorian Pride Centre and encourage alternate travel options. Working alongside Hansen Yuncken, the construction timeline for the Victorian Pride Centre remains on track, due for completion mid 2020.
Source: Media Release
---