Review | 'Xenides' shows us that we only know a tiny part of anyone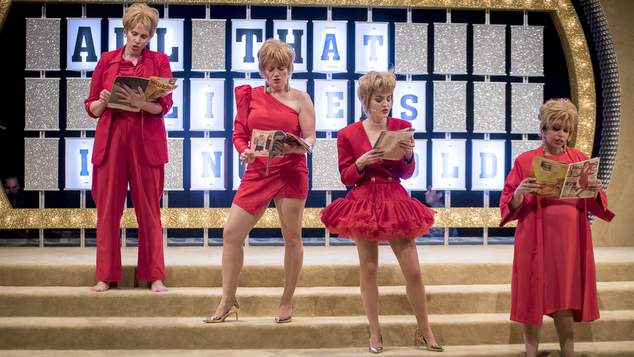 Xenides | State Theatre Centre | Until 11 November | ★ ★ ★ ★ 
When Black Swan State Theatre Centre announced that they would be producing a new work, a world premiere to conclude their 2018 season, a musical, or a play with songs, a production about the life of game show hostess Adriana Xenides – I've got to admit, it ticked a lot of boxes for me.
Why was I so excited for this production?
It's completely Australian – it's a story about one of our own. How much do we know about Adriana Xenides, who was on our TV screens Monday to Friday, who was she, intrigue is good? It's also a musical, and it's being devised by Black Swan's Artistic Director Clare Watson, who been hitting home runs for the company since she took over as Artistic Director from Kate Cherry.  Tick, tick, tick, tick.
If you're within a certain age range, you immediately know who Adriana Xenides was. Every afternoon she was there on our TV screens from 1981 to 1999 turning around the letters of Wheel of Fortune. Every day a new outfit, a bunch of puzzles to solve and some witty banter with the host.
Yet, despite her being in our lounge rooms for close to two decades, how much do we know about her life? To guide us into the life of a girl who was born in Buenos Aires, but found fame in Adelaide, there is not one, but four actors playing Xenedis simultaneously.
Adriane Daff, Katherine Tonkin, Laila Bano Rind and Harriet Marshall all take to the stage in bright red outfits, blonde wigs and gold heels. The stage, designed by the talented Zoe Atkinson, is a spot-on recreation of a section of the Wheel of Fortune set.
An audio recording of an exchange between original Wheel of Fortune host Ernie Sigley and Xenides takes us back to the early 80's. It's a conversation that is cringeworthy, instantly you realise how times have changed, nobody could speak like that on television today.
Thankfully Adriane Daff soon breaks the fourth wall and welcomes us to the show. Quickly it becomes apparent that this is no straight forward dramatisation, this is a journey of discovery, and four talented and interesting women are here to guide us.
Through the course of the show we learn as much about Adriane, Katherine, Harriet and Laila, as we do about the show's namesake.
They each bring different skills to the experience, for Harriet Marshall this is her first dramatic role outside the sphere of opera, she has great comic timing and naturally an amazing voice. Adriane Daff oozes personality, someone should give her a game show. Laila Bano Rind brings sass and wit to the table, while Katherine Tonkin balances out the frivolity with some heartfelt moments of honesty.
The songs that punctuate the storytelling are fun and surprisingly contemporary, hip hop raps, opera, pop moments and power ballads abound, the incredibly talented Xani Kolac wrote many songs for the production and performs on stage as part of a three-piece band.
It's a show filled with comedy, personality and songs, but underneath it all there's a lot of themes to spark conversations, and conversations is what Clare Watson aimed to create with all 8 productions the company has staged in 2018.
Xenides gives us a lot to think about. The dynamic of the charismatic male host and the charming second fiddle hostess has disappeared from our screens. No more are women on television pacing back and forth spinning letters, popping up in the gift shop, or wheeling out a robot to tell us our dating compatibility score.
Her long tenure of Wheel of Fortune made Adriana Xenides the leader of the pack, but the gang also included Tiffany Lamb, Alyce Platt, Delvene Delaney, Kerrie Friend, Sophie Falkiner, Victoria Nicholls, Jo Bailey, Nicky Buckley and Debbie Newsome.
While women are no longer cast in these subservient roles, they haven't been given the the leading host's role either. Julia Morris has just begun hosting Blind Date, Sonia Kruger hosts The Voice, and Cornelia Frances played the character based role on The Weakest Link – but most game shows nowadays have just one male host, The Chase, Millionaire Hot Seat, Family Feud, Hard Quiz, Think Tank, Have You Been Paying Attention, or even two male hosts on Pointless.
Someone really needs to buy Ash London a ticket to this production, so she can then go back and ask Channel Ten why she isn't the host of Game of Games.  
This play says a lot about women, it doesn't shy away from being a conversation in the age of #metoo. Hearing Katherine Tonkin talk about trying to appear smaller was particularly poignant, and made me wonder how men could contribute to creating a world where women wanted to be bigger, not smaller.
At the end of the evening I'm not sure we know Adriana Xenides any better than if you'd read her Wikipedia entry, but maybe that's the point. How many people do we see everyday, but not really see them for all they are? How many of our own family, friends and acquaintances do we only know part of their story?
Tickets to Xenides are available now. 
Graeme Watson, Images: Dana Weeks
---