Fez Cafe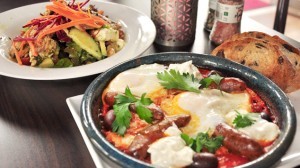 Fez Café in Mount Lawley has quickly become a popular breakfast and lunch choice for many people. It's not surprising with first rate food, friendly service, great décor and exceedingly good coffee on offer. Located on the corner of Walcott Street and Raglan Road the café is off the main Mount Lawley strip but its slowly being discovered by more and more people.
So far we sampled the Merguez, served in a hot clay plate, it's filled with tomatoes, olives, sausages, labna and baked free range eggs which comes with a side of olive ciabatta, which is full of flavour and a substantial meal. Another favourite is the Moroccan chicken breast which is serves with cous-cous filled with apricots, olives and preserved lemon.
If you're after something lighter try the Charmoula marinated chicken salad, chick peas and feta cheese doused in a hazelnut and maple dressing or the delicious Harissa Soup filled with chick peas, lentils and coriander.
The café also has the most amazing range of delightful and authentic Middle Eastern cakes, making it a great spot just to drop in with friends for a coffee.
Fez Café is open for Breakfast from 7am to 11:45 daily, and serves lunch from 12pm through to 3pm.
Graeme Watson