15 Questions with Glitta Supernova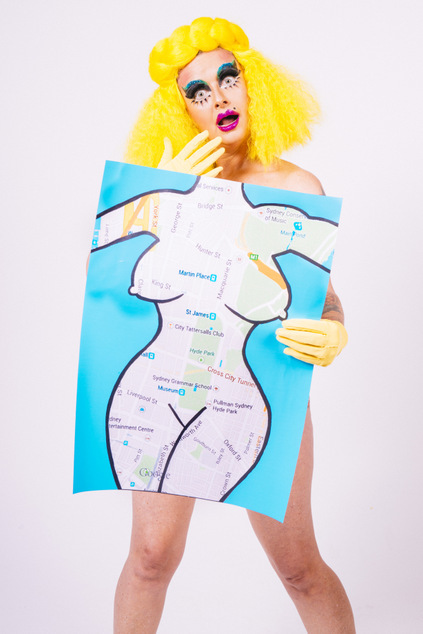 Prepare yourselves Perth, Glitta Supernova's arrival in imminent.
Glitta's packing her drag bags and heading west for a return performance at Fringe World.
The show Body Map will be at the Circus Theatre from Tuesday and runs through to Sunday 12 February.
The performance is described as psychedelic, satirical, personal and political storytelling, served on a platter of physical comedy and performance art.
The award winning sexual-performance artist promises to "take you on a journey where once access is granted your off-road body reality tour will commence in real time."
The show's media release warns; "There are no seat belts, or franchised locations, it's going to get bumpy. Please do not expect data updates or notifications – as there will be no Wi-Fi, Bluetooth or satellite coverage on this journey. You'll form your own internal feed through physical presence (patent pending)."
It goes on to describe the offering as "Red light surrealism bridging the gap between intimacy and objectification in a sixty minute physical freeway that won't be tarred for convenience."
It also sounded deliciously bonkers to us, so we decided to send Glitta Supernova fifteen slightly unexpected, excessively random, left field questions; which we brainstormed with the neighbour's cat.
What's the best way to find out who you really are?
Take LOTs of acid, walk away from everything you know, turn your brain inside out, then maybe all the conditioning that have been shoved up our arse will fall out your ears and make room for you, there are detailed instructions on Instagram Glitta_Supernova_Experience.
What's the best way to find out who your friends really are?
Will they stick by you on LOTS of acid while watching all this stuff fall out your arse?
How long could you live without technology?
If I'm not on social media I am deemed suspicious and I don't exist – The invisible woman. The irony of course is the more your away from technology the more you are living…
Are you any good at reading a map?
I'm a lousy navigator, that's why I tend to go off road so much. My show Body Map is internal navigation ,a challenge to the external life we consume and the internal life we are silencing. Biographic warts & all Storytelling in a hybrid Cabaret hybrid mash of performance art & queer theatre.
A  journey across the '80s, '90s, and naughties as experienced through the eyes of a creature of the subculture.
Experimental Adult-only theatre for those seeking more. Absurdist skits, social commentary bridging the gap between single lane objectification & the 2-lane intimacy highway "Let everything private be made public"
Map backwards is Pam, what do you make of girls named Pam? Makes me want to slip a S on it and have some spam, which is sold as "real sliced ham"….funnily enough there is a bit of actual ham in my show mmmm
What are you wearing?
I'm a nudist… it's a hereditary ailment, if you saw my last show Lets get METAphysical it was explained in all too great a detail there.
How many cats is too many cats?
I'm a poodle owner, fetishist, mother and lover, I gave cats away for poodles although cats not unlike Queers always hiss and make up!
Why are there so many Mexican restaurants nowadays?
I have pondered this myself at times and could give you a boring technically correct answer like American corporates love opening their chains down under (pun intended) but let's just say the Mexican coriander cartels are having a fuckin' fiesta on our tongues.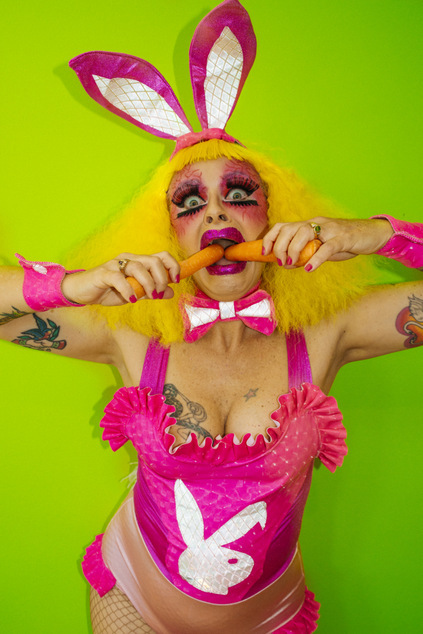 Insert a word in this sentence, "Gay boys do ________ way too much!"
Chemsex.
I just watched a British documentary last night on the work the 56 Dean Street Clinic in London and the work they are doing with and for gay men, addressing everything from what we missed in the '80s with the HIV education, to what its like coming out as young and gay in the UK today…
If you were to create a new gender identity what would it be called?
I suppose I'm Buddist at heart and really like the idea of non attachment.
I've always striven to be fluid in gender, spirit, species, star-sign etc.
I spent quite a few years living in boxes, but I cant bear them now because when I get put into a box I cant expand, I can only be the limitations my label has boxed around me, I like to morph and change.
I'm a fractal – yes I have identified as Danny boy Cheese Cake Rodrieges the gay Mexican restaurateur, as Anita Pee the bisexual bitch from Byron, and man eater "Trish" the ex Kmart model from Cockburn Central – but these days labels are too limiting.
What is an appropriate punishment for liking musicals?
I don't like musicals… I really don't… looks around in a paranoid manner….
Are you available to be the next Premier of WA?
I've already been exposed, If you dig you will find lots of dirt on me, if you come to the show and still believe I have the potential then sign me up.
What's your favourite toothpaste flavour?
As long as it looks like cum I'm pretty happy.
Are friends electric?
Shit I hope not, cause my next Jacuzzi party could be a problem..
What is overrated?
All the things that are actually not important.
Book your tickets to see Body Map now.