Getting Serious with Perfume Genius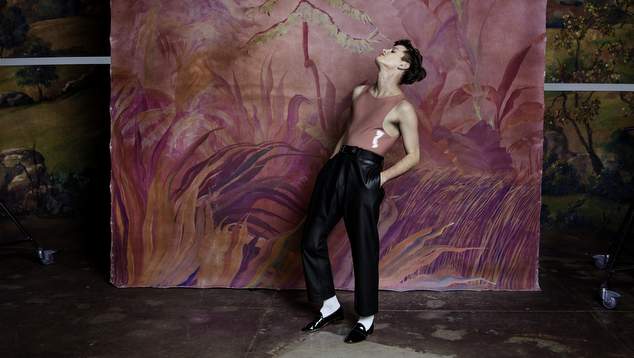 Since releasing his fourth album No Shape Mike Hadreas, who performs as Perfume Genius, has been on the road playing shows around the world.
OUTinPerth caught up with Hadreas while he had a short break over Christmas that gave him a chance to return to his home in Seattle. Soon he'll be back on the road and his next sojourn will include a return trip to Australia where he'll perform at the Chevron Musical Gardens for the Perth Festival.
Hadreas played at the festival a few years ago, and those who were lucky enough to catch his live show, raved about his powerful and emotive performance. But for now, he's home and trying to resist the temptation to write more music.
"I'm home. It's my first day home after months of touring. You know, I've had a week off here and there but not enough to actually feel home. And I'm home and I'm not doing anything until I come see you guys in Australia." Hadreas said when we chatted over the phone.
The musician admitted that when he is out performing he often longs to be back home, but it doesn't take long for him to want be out on tour again.
"You always wish you were doing something else. It's just a strange job, it's a really weird job, physically. You don't get any rest. Then you really have to use your body and your voice, even though it's kind of torn down from sitting for so long on a van and travelling, and not getting any sleep, and stuff like that. But it's also, fun.
While the the first two albums from Perfume Genius were filled with tender delicate songs and haunting vocal delivery, Hadreas changed it up when he released his third record Too Bright back in 2014, opting to create a series of loud, powerful and sonically intriguing numbers. His latest collection continues in that vein and offers some of the most complex song writing of his career.
Heading into the studio this time Hadreas said he really wanted to approach the work with more confidence.
"I just wanted to push it, to take myself really seriously.
"I just wanted to push it, to take myself really seriously. You know, the first album I ever made, was the first moment, the first time I toured, were the first songs I wrote.
"It took me a moment to think of myself as a real musician, and that there wasn't a fluke. But I didn't want to have that in my head when I was working on this album. I wanted to take it really seriously. I just wanted to put all of my energy into it, and leave behind my fears and insecurities.I wanted it to be 'big feelings'.
Hadreas shares that when he first began working as a songwriter he'd only spend short periods of time working on each song, if it didn't work immediately he'd discard it and move on. Now he spends a little longer crafting each tune and is more open to wrestling a potential song into shape.
On one of the album's tracks, Run Me Through, he tackles the topic of toxic masculinity, the song's subject matter has come to the forefront of political and cultural discussions in recent months.
"To be honest it's been going on for a very long time…just people are, I don't know, I guess it's becoming harder to ignore, because of the internet or something, and people are more willing to listen to each other more when they tell them what happened to them, and people are listening now. I'm certainly glad that that's happening."
The writer said he credits the internet for giving many people a voice to share their concerns about how they've been treated by powerful men, but in the song also admits that the same qualities are the ones he sometimes finds attractive.
"I'm certainly glad that a lot of these men are being completely destroyed. but that song in particular is kind of an embarrassing one because it's almost like me kind of me admitting to being attracted to certain masculine things that I wish I wasn't. I kind of wish I wasn't attracted to traditionally masculine men as much as I am, and that's what I want. It's weird to me."
While particular ideals of what masculinity is deeply embedded in our upbring and community Hadreas says he's becoming increasingly aware of his own perceptions and attractions.
"I don't actually feel guilty for it, but I do wish that I could shake it off a little more than I have, and you're conditioned to, I don't know, its not very cool. It's a tricky growth thing."
Hadreas came out when he was fourteen, back at a time when high school students coming out was a rarity. He tells us he a stage where he could no longer keep his sexulaity a secret.
"I had met some other gay kids and stuff like that, but I guess I felt on the outside of being very much alone, and I don't really know why… I had felt like I had been hiding it for a really long time, and that just happened to be the tipping point, I just happened to be really young.
"I couldn't do it anymore, I was just so exhausted with constantly thinking about how I carried myself, and what everyone was thinking. I just couldn't do it anymore. But it wasn't easy, and I had lots of teachers and people who worked at the school did not really understand it and not deal with it very well and were just very rude."
Hadreas credits his supportive family for getting him through his teenage years, noting that he always had a roof over his head, something that a lot of gay teens who came out in the '90s didn't have.
While he's on his break over the Christmas period Hadreas is debating whether he'll spend some time writing new tunes, he's not sure if he has enough time for the creative process.
"I kind of thought I'd just do nothing for two months, but maybe I'll write some. Last night I played the guitar, which I rarely do, I don't know why I did that, because I've just been playing and singing stuff for a long time.
"The first time that when you're writing is really hard, and frustrating, and I don't know if I want a month of having this bad time. I might wait until I have six months, so I can have the good bits of writing too.
Perfume Genius will play the Chevron Musical Gardens for Perth Festival, with support from Mama Kin and Spender, on 28th February. Tickets available from Perth Festival.
Graeme Watson
---
Support OUTinPerth
Thanks for reading OUTinPerth. We can only create LGBTIQA+ focused media with your help.
If you can help support our work, please consider assisting us through a one-off contribution to our GoFundMe campaign, or a regular contribution through our Patreon appeal.