The enthralling 'White Spirit' is a highlight of the Perth Festival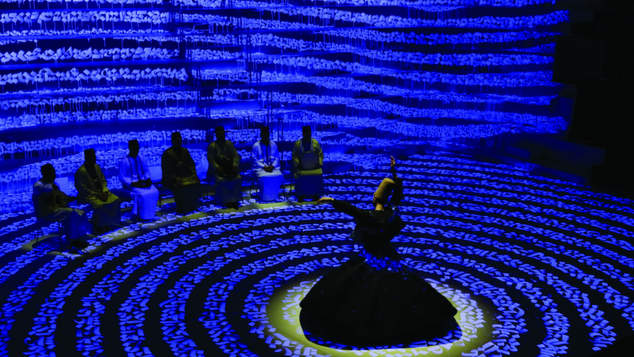 White Spirit | His Majesty's Theatre | 2nd March 
The mark of any great show is how it folds time in around itself. A great show should, in effect, act like a temporal displacement field. It should hold you, condensing minutes around itself, so that when you walk out of the theatre and check your watch, you're shocked at how much time has actually passed. White Spirit is such a show, except it also enthuses the soul, accenting the beauty of the streets once you leave it's beguiling enthral.
Nestled on the stage of His Majesty's Theatre, the son of a Syrian Sufi sheik leads six singers in a sonic swirl of songs and poems as three Whirling Dervishes of Damascus spin. It sounds like a simple premise, if not a slight tongue twister, but White Spirit is so much more than it appears.
This show is about exploring our connection to the sublime, the sacred, the profane. The nashids, or hymns, recounted here have a melodic, hypnotic quality. The Whirling Dervishes amplify the spiritual yearning for connection via the endurance of their spinning, a feat so eloquent and yet playful that each rotation transmits something greater, something unspoken.
For me personally, the highlight of the show was the addition of Shoof. This Tunsian born street artist utilises merely one brush to augment the landscape of the stage with his geometric abstraction of Arabic letters. I was wondering how they were going to introduce Shoof, since the hymn-singers from the Shadhiliyya order and the Dervishes were all attired in traditional dress. Would Shoof also be wearing traditional dress? Well, yes… but traditional dress of the street: cargo pants, t-shirt and skate shoes. The fact that Shoof was presented in this manner spoke volumes to the respect this production has for him as an artist, and his art: in a world where graffiti and street art is often buffed over or homogenised / commercialised, Shoof was given free rein to be himself.
And what a joy that was: as he painted, he kicked and swayed and stroked the canvas on the stage as if hypnotised himself. His style of lettering spoke straight from his unconsciousness as the music amplified his medium. The final Dervish garment – black with white Shoof lettering on it – was a magnificent addition: as it spun, it was like a galaxy unfolding, spinning, rotating, reaching out its arms to us, scattering us with stardust.
Vocalist and choir leader Noureddine Khourchid should be immensely proud of his troupe of hymn singers. These gentlemen ushered up melodies and sounds that spoke of (and here I am going on instinct, unconscious reactions, since all the songs were not in English) ecstasy, the holy, moments of lament and echoes of love, invocation and accession. The accompaniment by daffs (frame drums, tambourines) added a mystical edge to the evening.
Honestly, the aura and energy created by this show was so beguiling that the 80 minute production only felt like 40 minutes. Stumbling out of His Majesty's, I felt lighter, fortified, as if what had troubled me earlier was of little consequence. And I as walked toward the train home, I marvelled at the intoxication the human voice can conjure. The occasional scrawl of graffiti and street art reminded me that even that born of the streets can be sacred and holy in its own right. White Spirit had lifted my spirit, left my heart spinning like a Dervish, slick with an unspeakable lettering whose language I unconsciously knew. Sublime brilliance.
White Spirit was presented as part of the Perth Festival. 
Scott-Patrick Mitchell
---
Support OUTinPerth
Thanks for reading OUTinPerth. We can only create LGBTIQA+ focused media with your help.
If you can help support our work, please consider assisting us through a one-off contribution to our GoFundMe campaign, or a regular contribution through our Patreon appeal.