A Bigger Splash: Our chat with director Luca Guadagnino
Actress Tilda Swinton and Italian director Luca Guadagnino have a long working relationship, the pair have worked together intermittently for decades.  Their latest collaboration is 'A Bigger Splash.'
The movie takes its name from David Hockney's famous painting, but is also a remake of a 1970's French film. In this new telling of 'La Piscene (the Pool)' the ingredients are mixed up and updated, created a suspenseful psychological exploration of relationships.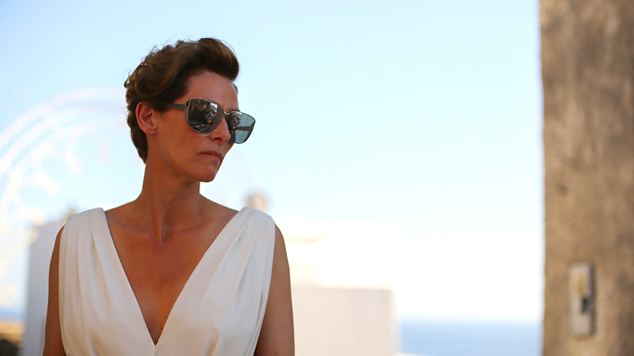 Swinton is world famous rock star Marianne Lane. She's decamped to the spare and remote island of Pantelleria in the Mediterranean to recover from surgery on her vocal chords. Under strict doctor's orders she's forbidden from speaking while she recuperates. Her younger boyfriend (Mathias Schoenaerts) accompanies her.
The couple's idyllic relaxation is interrupted when Marianne's ex-boyfriend Harry (Ralph Fiennes) suddenly arrives, bringing in tow a recently discovered fully grown daughter, played by Dakota Fanning. Record producer Harry, and his nubile daughter, bring parties, fan attention, and a truckload of sexual tension – disrupting the couple's quiet getaway.
When asked if the studio was concerned about the idea that the fabulous Tilda Swinton would have a largely non speaking role in the film Luca Guadagnino reveals how he got them onboard. He simply kept it a secret.
"I didn't tell them until we'd started shooting," Guadagnino laughed as we chatted on the phone, "I kept it a secret so no one would panic. Because I knew and I felt absolutely right about the choice, I didn't want to create any discomfort or any disruptions."
The fact that Marianne can't talk is a physical symbol of what's she's going through emotionally, while the film's setting on a remote island away from society also echoes how alone the characters are. Guadagnino said these factors symbolise how complex relationships are.
"I think it's about how much we are tangled up in our own relationships." Guadagnino said. "I decided to shoot on the Island of Pantelleria, it was one of the reasons I decided to take up the offer of remaking 'La Piscine', it allowed me to make a film on Pantelleria, I thought it had these very extreme qualities that sort of created a new character amongst the four characters. The Island, the place itself is a character."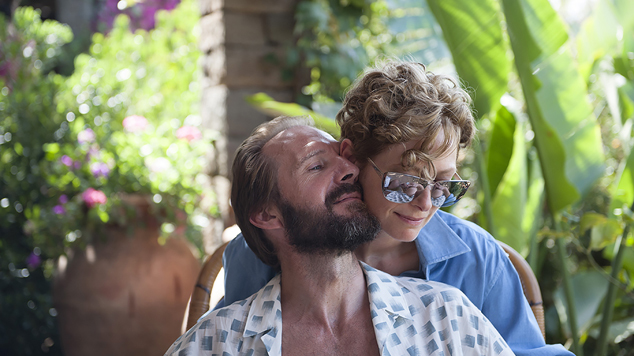 With the cast locked away together on the remote island for the majority of the shoot, the actors and crew formed close bonds. Ralph Fiennes has described the process of shooting on the remote island as challenging as the cast were buffeted by strong winds.
"It's good for their concentration." Guadagnino said of the isolation. While the director has never shot a feature in a big metropolitan city he said the process of making a film is naturally very enveloping, taking up all of his focus.
"Being locked away on Pantellaria was in a way like a double envelope, because we were far away from everything, but also because we were absorbed in making the movie."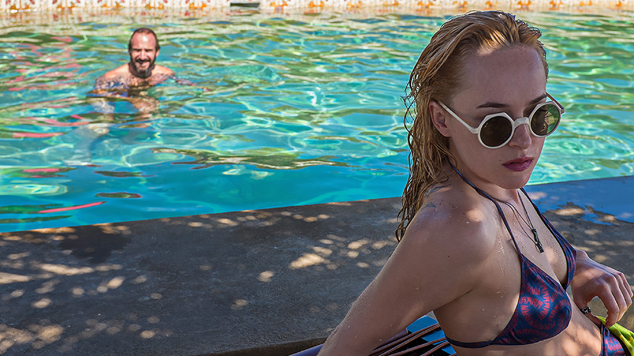 When asked if the scenes where Dakota Fanning's character Penny appears next to the pool in boxer shorts and sunglasses was a deliberate visual references to 'Desperately Seeking Susan', the director laughed.
"I like that reference, because I love that Susan Seidelman movie, it was great! I think it was unconscious though to have a similar look. I love the character of Penelope and the way Dakota Johnson plays her."
While the other three actors had been attached to the film through its development Johnson was only cast just before the film began to shoot. Guadagnino said the late signing wasn't because of the difficult of the character but the wealth of talent actresses vying for the role.
"It wasn't hard to find an actress for the role, it was hard because we had so many choices, and then you want to make the right choice." Goardagnino said he was happy with his final selection and is proud of what Johnson's performance.
The film is an unexpected tale, tension rise between the four characters they each begin to become annoyed by little things, there are small indiscretions and old emotional wounds are reopened. When it does build to a climax, the outcome is unexpected and suddenly the characters are faced with a whole new set of psychological quandaries.
'A Bigger Splash' is out on March 24th.