Aged Care Facilities Urged to Adopt GLBTI Guidelines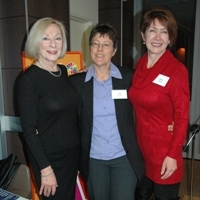 Community members and professionals gathered on July 12 for the launch of a groundbreaking report by the GLBTI Retirement Association Inc (GRAI).
The report titled We Don't Have Any Of Those People Here: Retirement Accommodation & Aged Care Issues for Non-Heterosexual Populations is the result of many years planning and recent industry surveys.
Made possible by a Lotterywest Social Research Grant, the report includes a comprehensive literature review and best practice guidelines for aged care facilities.
While it is estimated that eight percent of the population identify as GLBTI, 90 percent of the aged care facilities surveyed across the state responded that they were unaware of ever having had GLBTI residents, highlighting the invisibility of the issue.
Hosted by Verity James, the launch was held at a Swan Care Group facility- the first organisation to implement the new guidelines.
Five key principals outlined in the best practice guidelines were- an inclusive and safe environment; open communication; GLBTI sensitive practices; staff education and training, and GLBTI inclusive organisational policies and procedures.
Special guest Noeline Brown, Australia's first Ambassador for Ageing, flew in to Perth especially for the launch and said she was pleased to see research into this overlooked issue.
'I think its research that was really needed,' Brown told OUTinPerth.
'This research will be able to tell people who are working as carers that there are little subtle things they can do and ways to go about dealing with situations because it can be quite sensitive.'
Areas in which sensitivity can be increased include using gender neutral language and tackling heteronormative attitudes that assume all residents to be heterosexual.
While ageing is not an issue many young people find relevant, Australia's population is ageing at an increasing rate meaning more GLBTI people will be entering aged care in coming years.
GRAI is passionate about strengthening intergenerational communication within the GLBTI community, an idea Brown agrees with wholeheartedly.
'The more education people have the better and the more we know about each other the better and the more younger people are exposed to older people and hear their stories I think it is useful for both,' she said.
A full copy of the We Don't Have Any Of Those People Here report can be downloaded from the GRAI website: www.grai.org.au
Amy Henderson
***