Alabama public TV would not air episode of 'Arthur' with same-sex wedding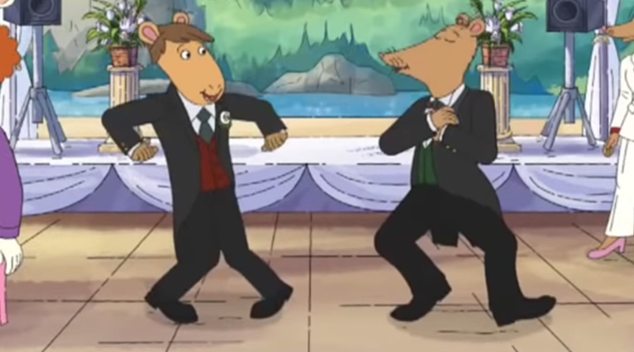 Alabama Public Television refused to air a recent episode of children's animation Arthur, which featured a wedding between a male character and his partner.
The long-running family-friendly cartoon premiered it's latest season with the marriage of Arthur's teacher Mr Ratburn to his fiancee Patrick.
The public broadcaster's director of programming Mike McKenzie told US media that he didn't think the content was appropriate for children.
"Parents have trusted Alabama Public Television for more than 50 years to provide children's programs that entertain, educate and inspire," McKenzie said.
"More importantly – although we strongly encourage parents to watch television with their children and talk about what they have learned afterwards – parents trust that their children can watch APT without their supervision. We also know that children who are younger than the 'target' audience for Arthur also watch the program."
Anti-LGBTI+ group One Million Moms have rallied against the cartoon's home network at PBS, demanding the animation be cancelled.
"I am outraged that PBS Kids would use their children's network to promote same sex marriage. It is offensive to me and my family that the network would glorify the homosexual lifestyle," the group writes in their petition.
"Until PBS Kids agrees to no longer air this episode or others with same sex couples, then conservative families including my own will have no choice but to discontinue watching PBS Kids Network, even avoiding previews, commercials and reruns."
Arthur creator Marc Brown says the majority of responses to the episode have been overwhelmingly positive.
"It made me feel great that we were able to do something that was really helpful to so many people," Brown said.
"Art reflects life, life reflects art, and kids need to see what's happening in the world. I'd have to live in a world that was sanitised and censored. That's something I can't get behind."
OIP Staff
---