ASICS drop Israel Folau sponsorship after Rugby Australia breach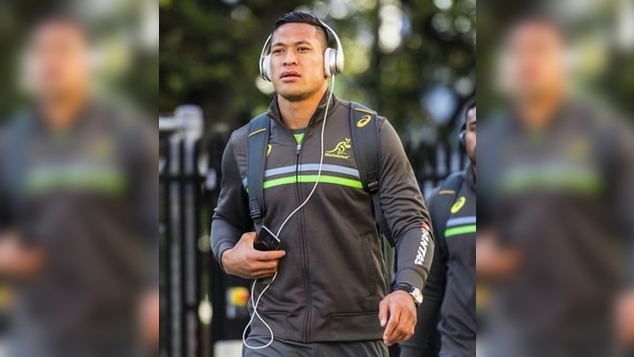 Rugby player Israel Folau has lost a major sponsor in the fallout from his recent social media post which declared that 'hell awaits homosexuals'.
Sportswear giant ASICS, who also sponsor Australia's national team The Wallabies, posted their decision to social media yesterday.
"ASICS is dedicated to sport and its healthy contribution to society," the brand wrote on Facebook.
"We believe sport is for everyone and we champion inclusivity and diversity."
"While Israel Folau is entitled to his personal views, some of those expressed in recent social media posts are not aligned with those of ASICS. As such, our partnership with Israel has become untenable and he will no longer represent ASICS as a brand ambassador."
Earlier this week, peak body Rugby Australia determined that Folau's post broke the rules of his employment contract, declaring he was guilty of a 'high level breach'.
Folau is yet to be delivered a sanction, though a 'high level breach' could result in a termination of his contract. Both Folau and Rugby Australia can lodge an appeal within 72 hours of the sanction decision.
Former Wallabies coach and radio shock-jock Alan Jones has thrown his support behind Folau, telling 2GB radio listeners that he believes the fight has just begun.
"We sat down the other day and had a long yarn. In many ways it was very, very sad… at one point he just threw his hands gently up in the air and he said 'Alan, I don't know what this is about. What am I supposed to have done here?'" Jones said.
"It will go to the highest court in the land if it has to… the battle has just begun."
Former Wallabies Captain Nick Farr-Jones has also spoken in Folau's defence, saying Folau "doesn't believe he's done anything wrong."
"I did originally [think he should apologise] had be been told don't do this again – don't mention the world hell, for example, awaits these various groups of people," ABC reported.
"But he's saying he was never instructed that way… He does it, I promise you, in a loving way, wanting to seek change in people. I know a lot of people don't get it."
OIP Staff
---