Rugby player Israel Folau dives into new social media controversy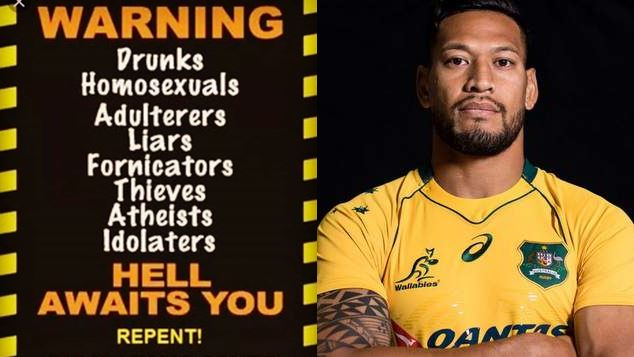 Rugby player Israel Folau is facing a new wave of criticism after he posted a message to his Instagram page declaring that homosexual people are heading to hell unless they repent, and embrace Christianity.
On his Twitter account the player posted a message a screenshot of a news story about the passage of laws in Tasmania which sees changes to the ways birth documents are issued saying people had been "blinded by the devil".
"The devil has blinded so many people in this world, REPENT and turn away from your evil ways. Turn to Jesus Christ who will set you free." Folau posted.
Last year Folau was embroiled in a long running scandal over a social media post where he declared gay people would end up in hell. On that occasion Rugby Australia had a series of discussions with the player. Folau later said he had considered quitting the sport rather than curtail his comments.
Tonight Rugby Australia has issued a statement saying the comments were not inline with the values of the code.
"The content within the post is unacceptable. It does not represent the values of the sport and is disrespectful to members of the Rugby community." the statement said. Rugby Australia said their integrity unit would be looking into Folau's conduct. 
OIP Staff
---