Australian Marriage Forum declare "Find. Another. Name"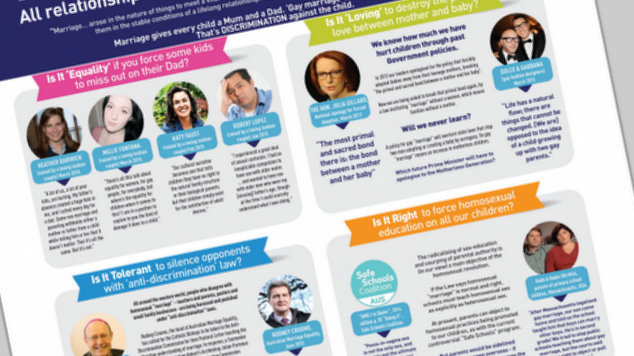 The Australian Marriage Forum have taken out full page advertisement in today's edition of 'The Australian' for their punctuation happy 'Find. Another. Name.' campaign.
The campaign argues that allowing marriage between same sex couples forces children to be discriminated. "Marriage gives every child a Mum and a Dad. 'gay marriage' makes that impossible." the advertisement reads.
The advertisement asks six questions and provides examples to illustrate each point. You can read the whole advertisement via the link below.
Australian Marriage Forum Advertisement
The advertisement asks 'Is it 'equality' if you force some kids to miss out on their Dad? a number of children raised by 'loving lesbians' are quoted as being opposed to marriage equality.
The advertisement then asks 'Is it 'loving' to destroy the primal love between a mother and a baby? Former Prime Minister Julia Gillard and fashion designers Dolce and Gabanna are featured in the response.
Is it tolerant to silence opinions with anti-discrimination laws?, is the campaigns third question taking aim at calls by Australian Marriage Equality spokesperson Rodney Croome who urged people to complain about a Catholic Church marriage booklet.
The fourth part of the advertisement asks 'Is it right to force homosexual education on all our children. The response provided is critical of the Safe Schools anti-bullying campaign that is being rolled out across Australian schools.
Next the advertisement asks "Is it honest to lie about what you plan to do with marriage". The campaign argues that gay activists don;t want to join marriage but radically change it. They quote lesbian activist Marsha Gessen claiming she wants to destroy marriage all together and suggest that author Robert Altman's statements saying that there are virtually no longstanding monogamous gay relationships.
Finally the campaign says that there is no need for marriage equality as the federal government has already addressed all the laws they created inequality for same sex couples.
The advertisement claims that same sex couples make up just 1% of people and the definition of marriage should not be changed to suit a small minority.
Speaking to advertising industry website Mumbrella, Dr David van Gend leader of the Australian Marriage Forum has said that Australians needed be jolted out of their apathy about the issue of marriage equality.
"It is a time for boldness. For too long the argument on same sex marriage has been self satisfied in its moral high ground.
"It's far more complicated. If it comes at the expense of equal rights for children, where is the justice in that?
"People need to be jolted out of their apathy. The whole debate has been so trivial and shallow. We must mature in how we present it." Dr van Gend said.
In a statement announcing the launch of the campaign Dr van Gend said that equal love for two men was only possible if you endorsed destroying the primal love between mothers and babies.
"If 'equal love' for two gay men can only come at the cost of destroying the primal love between a mother and her baby, what is loving about that?" Dr van Gend said.
"And if a movement that has demanded 'tolerance' of society now shows gross intolerance of anybody who disagrees with them, silencing them with the big stick of anti-discrimination law, what is there to respect in that?" Dr van Gend said.
Dr van Gend also made appearance on ABC radio this morning describing marriage equality as "an act of injustice against children". Dr van Gend said that marriage equality advocates were unable to think of children and only had their own selfish adult interests.
Dr van Gend said none of the quotes presented in the advertisement were taken out of context.
The Australian Marriage Forum leader said that the coalition MPs should not be granted a conscience vote on marriage equality.
"A conscience vote is what cowards hide behind. A conscience vote is essentially to say we are so nervous about an issue as a party that we are going to run away from a serious policy that we've always held, and we're going to runaway to a policy free zone." Dr van Gend said.
Dr van Gend said the coalition would "timid and pathetic" if they allowed a free vote on the issue. Dr van Gend said it was wrong to describe the marriage equality bill as having cross-party support describing MPs Warren Enstch and Teressa Gambaro as "renegades".
Earlier this year the organisation created a television advertisement that featured a crying child. SBS television refused to run the advertisement during the broadcast of the Sydney Gay and Lesbian Mardi-Gras.
OIP Staff
Update: This article was updated to add comments from ABC radio