Author of The Gender Fairy responds to Marriage Coalition advert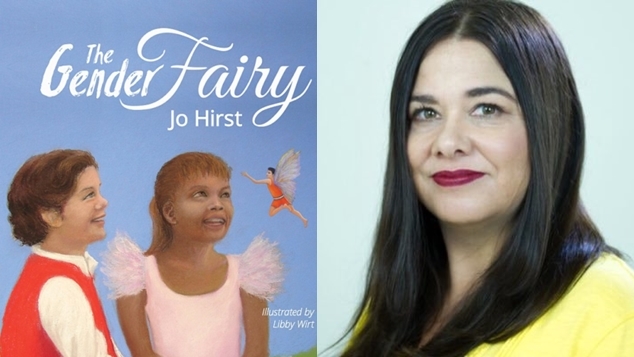 Jo Hirst, author of the children's book The Gender Fairy, has responded to the Coalition for Marriage using her book in their latest advertising campaign.
In a statement Hirst said the lives of young transgender children should not be brought into the marriage debate.
"This survey is about who will have the right to enter into a civil, secular marriage and nothing else." Hirst said.

"The "No" campaign should not bring transgender children into this debate. My book and transgender children should not be fodder for their search for relevance.
"Transgender children make up roughly 1.7% of our population, and they are an already vulnerable group of children. They have a one in two risk of attempting suicide, and 80% experience bullying at school.
"They and their families need and deserve love and support; the last thing they need is to be the target of a political campaign.
Hirst said transgender children should not be pawns to anyone's political advantage.
"To target such children, who are already marginalised and prone to stigma and who are completely irrelevant to the marriage debate is dangerous. It is harmful to their well-being, mental health, and endangers lives."
The latest television advertisements from the Coalition for Marriage take aim at the children's book written by Hirst, saying that allowing marriage equality will lead to school programs that will teach "radical gender ideas" in the future.
"How am I supposed to protect my kids in the future from this stuff?" asks Melbourne mother Cella White who has campaigned against the Safe Schools program, a resource for teachers and principals that aims to reduce the bullying of LGBTI students.
Last month Perth's Telethon Kids Institute released a major report looking into the mental health of transgender youth.
The Trans Pathways report found that trans young people are at high risk for suicide and are approximately 10 times more likely than other young Australians to experience serious depression and anxiety.
The landmark research not only surveyed trans youth but also investigated the experiences and needs of their parents and caregivers.
The report recommends that more funding and services are needed for transgender youth, and existing service providers need to invest in more education and upskilling of staff.
One of the reports findings is that the factors which cause mental health challenges for trans youth are largely external. Lead researcher Dr Ashleigh Lin highlighted
that societal attitudes were the major factor affecting the mental health of trans young people.
"As a society we need to accept gender diversity, and we need to provide support to young people, and their families, who are trans.", Dr Lin said, "It's not being trans that leads to poor mental health, its societal attitudes towards trans people that leads to these young people experiencing mental health issues.
Challenges with finding accommodation, a lack of family support, educational institutions that were not inclusive and welcoming, and abuse, were all identified as factors that affected mental health outcomes.
Participants listed body dysphoria, peer rejection, issues with schools universities and TAFE colleges, bullying, helping others with their mental health and isolation from other trans people as some of the biggest drivers of poor mental health.
Parents told researchers one of their greatest challenges was finding easily accessible information on gender identity issues. Parents coming to terms with their child's gender identity reported that hearing from other parents who had trans children was a helpful resource.
Almost half of the parents surveyed reported that they had become aware of their child being transgender before the child reached High School age, 26.5 per cent became aware before their child was 5 years old, 21.8 per cent realised while their child was primary school aged. While 43.9 became aware while their child was an adolescent under the age of 18, and 8 per cent realised when their child was a young adult under 25.
The report notes that where health professionals, educators and peers were not exposed to programs that provide information about being transgender there was a likelihood that trans youth would be excluded, bullied and marginalised.
---
Do you need some support?
If you are struggling with anxiety or depression, support and counselling are available from:
Lifeline: 13 11 14
Beyondblue: and www.beyondblue.org.au
QLife: and www.qlife.org.au
QLife are a counselling and referral service for Lesbian, Gay, Bisexual, Transgender and Intersex (LGBTI) people.
---
Support OUTinPerth
Thanks for reading OUTinPerth. We can only create LGBTIQA+ focused media with your help.
If you can help support our work, please consider assisting us through a one-off contribution to our GoFundMe campaign, or a regular contribution through our Patreon appeal.