Bananarama are back with the original line-up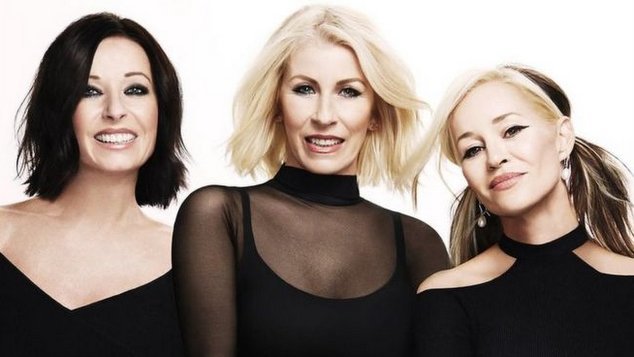 Bananarama have surprised fans with an announcement that their original line up is getting back together for a UK tour.
Siobhan Fahey left the group in 1988, after she married Dave Stewart from the Eurythmics and moved to Los Angeles. Fahey went on to form Shakespear's Sister with Marcella Detroit, while Keren Woodward and Sarah Dallin recruited Jackie O'Sullivan as her replacement.
After a few years O'Sullivan left the group and Dallin and Woodward continued on as a duo releasing many more albums. The pair toured Australia early last year.
While Bananarama have continued on as a successful duo on the nostalgia circuit, Fahey never got the chance to perform as Bananarama with a live band.
The trio have been out doing a range of promotional interviews for their upcoming 15 date UK tour.
Fahey told Chris Evans on BBC 2 yesterday that she was excited to be invited back in to the Bananarama club once again.
"I was really touched because it wasn't for any other reason than we love each other and really loved what we did.
"These were my formative years. I never thought it would happen again." Fahey said.
Woodward explained that one of the reasons the original line-up never toured was that pregnancies kept getting in the way.
"The worst thing was that, after Siobhan left, Sara and I then did the world tour without her," Woodward told Chris Evans.
"We had tried to do it while we were together all as a threesome, then I got pregnant while we were rehearsing.
"And Siobhan got pregnant the second time we were planning on going on the road, so for some reason it never happened."
Speaking to i-D magazine the band said the death of close friend George Michael had cemented their decision to reunite and hit the road. Dallin is married to George Michael's Wham! band-mate Andrew Ridgely.
"When George Michael died that was it for me." Fahey said.  "Because at our inception, there were a bunch of bands like us and Wham! who all went to the same clubs — it was a scene we were part of. It was all young kids who'd come out of punk who were just totally defining their own lives in a sort of hedonistic but innocent way, who were all obsessed with making cool pop music."
"When you see something like that [George Michael's death] happen, you just realise that life's too short. You don't know what's going to happen in life, so you need to embrace it fully, and do as much as you possibly can." Woodward said.
The three have teamed up a few times since Fahey's departure in the 1980's. They recorded a cover of ABBA's Waterloo for a Eurovision tribute album and reunited for an appearance to celebrate the 20th birthday of nightclub G-A-Y in 2002.
The band formed in London in 1979. Sara Dallin and Keren Woodward were childhood friends, they met Siobhan Fahey while they were all studying to be fashion journalists.
The trio used to do impromptu gigs with punk bands. In 1981 they were living above a rehearsal room used by Steve Jones and Paul Cook from the Sex Pistols.
The punk rockers helped them get their first record made – Aie a Mwana, a disco tune sung in Swahili. It became an underground hit and lead to their first record deal with London records.
The band first recorded some tunes with ex Specials singer Terry Hall and his new band Funboy Three. Bananarama sang backing vocals on Funboy Three's It 'ain't What You Do (It's the Way That You Do It) and they returned the favour on Bananarama's song Really Saying Something.
Bananarama teamed up with producers Jolley and Swain for their first three albums producing a run of hits including Shy Boy, Robert DeNiro's Waiting, Cruel Summer, Do Not Disturb and A Trick of the Night
On their third record the band worked with producers Stock, Aitken and Waterman on two tracks; More Than Physical and Venus. Their cover of Shocking Blue's song was a massive hit around the world.
For their fourth album the band worked exclusively with Stock, Aitken and Waterman creating the mega-selling Wow! record. The hits kept coming with Love in the First Degree, I Can't Help It, Nathan Jones, I Heard a Rumour and I Want You Back.
Around this time Siobhan Fahey decided to leave the band. The singer had recently married Eurythmics member Dave Stewart and formed a new band Shakespear's Sister.
Fahey was replaced in the band by Jacqui O'Sullivan and the band re-recorded several of the songs on Wow to feature O'Sullivan's vocals. They also had a hit with a charity single, a cover of The Beatles Help, which saw them teaming up with Jennifer Saunders, Dawn French and Katy Burke.
At the end of 1988 the band recorded a new tune Love, Truth and Honesty, which featured on their first Greatest Hits Compilation. The album went on to sell over a million copies.
For their fifth album Pop Life the band only recorded a few tracks with Stock, Aitken and Waterman, preferring to work with producer Youth. This album featured the singles Only Your Love, Preacher Man, Tripping on Your Love and a cover of the Doobie Brothers' Long Train Runnin'. The album was still popular, but the music world was changing as grunge and techno emerged.
By the time the band's next album Please Yourself came around in 1993, Jacqui O'Sullivan had left, and the trio became a duo. Returning to producers Stock and Waterman – who had now made a plethora of hits for Kylie Minogue, Jason Donovan, Mel and Kim, Rick Astley and whole stable of artists – the band returned to their euro-beat sound.
Please Yourself featured the ABBAesque tune Movin' On ad the catchy Last Thing on Your Mind – which would become a hit for STEPS a few years later. They also recorded an updated version of the '70s disco tune More, More, More. Despite being a brilliant album – the songs didn't chart as high as their previous hits and the band broke up with their record company.
Bananarama have never stopped recording though, in 1995 they released the album Ultaviolet / I Found Love which featured the single Every Shade of Blue. In 2001 they released an album in France titled Exotica which saw them re-record many of their earlier hits.
In 2005 they released the album Drama which saw them back in the UK charts. The new album spawned the hits Move in My Direction and Look at the Floor (Hypnotic Tango).
In 2009 the band returned with Viva which featured the songs Love Don't Live Here Anymore and Love Comes. The band also indulged their love of covers taking on Fox's sexy 70's tune Single Bed, iiO's Rapture and The Runner, which was originally recorded by The Three Degrees.
The bands most recent output has been the EP Now or Never which contained their take on the Maroon 5 tune Moves Like Jagger.